FOR IMMEDIATE RELEASE:
Tuesday, January 25, 2011
Peace Corps Hosts Congressman Farr, a Returned Peace Corps Volunteer
WASHINGTON, D.C., Jan. 25, 2011 The Peace Corps welcomed returned Peace Corps volunteer, U.S. Congressman Sam Farr (D-CA) to its Washington, D.C., headquarters as part of the Loret Miller Ruppe Speaker Series.
Peace Corps Director Aaron S. Williams introduced Congressman Farr, who recounted his experiences serving as a volunteer in Colombia from 1964 to 1966 and how those experiences have continued to shape his career in public service. Director Williams and Congressman Farr also answered questions from Peace Corps staff, returned volunteers, and other audience members.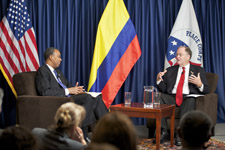 Since serving as a Peace Corps volunteer in 1964 in Colombia, Congressman Farr has dedicated his life to public service and expanding opportunities for more Americans to serve overseas, said Director Williams. Congressman Farr has also been a steadfast champion in support of Peace Corps mission.
A longtime supporter of the agency, Rep. Farr stated, Peace Corps volunteers represent the values of hope, prosperity, and opportunity that this country stands for. In an increasingly globalized world, these volunteers embody the best of what America has to offer and demonstrate the depth of our commitment to peace. As a returnedPeace Corps Volunteer, I am proud and humbled to be have worked alongside the 200,000 volunteers who have served our country in the name of peace over the last 50 years.
Peace Corps Loret Miller Ruppe Speakers Series honors the agency\'s longest serving director and is a forum for distinguished individuals to speak about issues related to the Peace Corps\' mission, such as volunteering, public service, and international peace and development.
Congressman Farr has served since 1993 as the U.S. representative for California\'s 17th congressional district.
About the Peace Corps:
President John F. Kennedy established the Peace Corps on March 1, 1961, by executive order. Throughout 2011, Peace Corps is commemorating 50 years of promoting peace and friendship around the world. Historically, more than 200,000 Americans have served with the Peace Corps to promote a better understanding between Americans and the people of 139 host countries. Today, 8,655 volunteers are working with local communities in 77 host countries. Peace Corps volunteers must be U.S. citizens and at least 18 years of age. Peace Corps service is a 27-month commitment.
# # #
---