FOR IMMEDIATE RELEASE:
Friday, August 12, 2011
Peace Corps Hosts Career Conference for Returned Volunteers
Hundreds of returned volunteers meet with potential employers at Peace Corps headquarters
WASHINGTON, D.C, August 12, 2011Returned Peace Corps volunteers (RPCVs) from across the country met with more than forty private sector and federal employers during Peace Corps bi-annual career conference at Peace Corps headquarters in Washington, D.C.,
August 9 12, 2011
. The conference attracted more than 250 returned volunteers who participated in networking sessions and workshops on interviewing, resume writing and other career building techniques. The career conference also included seminars to help RPCVs articulate to potential employers the leadership and technical skills gained during their 27 months of Peace Corps service.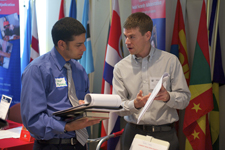 Returned Peace Corps volunteers bring unique skills to prospective employers, said Peace Corps Director Aaron S. Williams (Dominican Republic, 1967-1970). Returned volunteers have been field-tested in demanding environments and are proven leaders in their communities.
The career fair, organized by Peace Corps Office of Returned Volunteer Services, is one in a series of events taking place throughout the year. Other career fairs for RPCVs have already taken place in San Francisco, Los Angeles, Dallas, Seattle, Atlanta and Chicago.
We find that returned Peace Corps volunteers are highly desirable in todays tight job market. As returned Peace Corps volunteers transition back to life and work in the United States, they continue to share the stories and experiences of their Peace Corps service overseas, said Eileen Conoboy, Director of Returned Volunteer Services.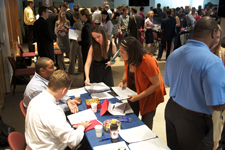 The Peace Corps assists returned volunteers find jobs following their service by: hosting
career conferences
throughout the year; publishing an online newsletter with job announcements, graduate school information, and career-related articles; and helping returned volunteers translate their field experience for prospective employers. Volunteers who complete two years of service receive one year of noncompetitive eligibility for employment in the federal government.
The Peace Corps also provides graduate school opportunities. Scholarships, assistantships, academic credits, and stipends are available from participating schools for
Masters International and Paul D. Coverdell Fellows
students
About the Peace Corps:
President John F. Kennedy established the Peace Corps on March 1, 1961, by executive order. Throughout 2011, Peace Corps is commemorating 50 years of promoting peace and friendship around the world. Historically, more than 200,000 Americans have served with the Peace Corps to promote a better understanding between Americans and the people of 139 host countries. Today, 8,655 volunteers are working with local communities in 76 host countries. Peace Corps volunteers must be U.S. citizens and at least 18 years of age. Peace Corps service is a 27-month commitment. Visit www.peacecorps.gov for more information.
# # #
---