FOR IMMEDIATE RELEASE:
Wednesday, October 27, 2010
Peace Corps Hosts Assistant Secretary for Public and Intergovernmental Affairs Duckworth
Washington, D.C., Oct. 27, 2010 The Peace Corps welcomed Assistant Secretary for Public and Intergovernmental Affairs for the U.S. Department of Veterans Affairs L. Tammy Duckworth to its headquarters in Washington, D.C, today in honor of Disability Employment Awareness month.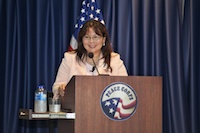 This month marks the 20th anniversary of the Americans with Disabilities Act, an important milestone in nations history, Peace Corp Director Aaron S. Williams said. I am proud to welcome Assistant Secretary Duckworth, an Iraq War veteran, to Peace Corps. She received a Purple Heart and continues to be a tireless advocate on behalf of disability rights and Veterans.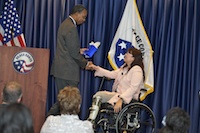 "Disability Employment Awareness Month is about the bottom line: we are more effective at what we do when we involve people of all backgrounds, all abilities, Duckworth said. In this organization [Peace Corps], youre uniquely placed to spread Americas message to the world. The strength of this nation is the diversity of its people that strength is only enhanced when we include those with disabilities.
A major in the Illinois Army National Guard, Duckworth served in Iraq as an assistant operations officer and also flew combat missions as a Black Hawk helicopter pilot. During a mission north of Baghdad in 2004, her aircraft was ambushed and a rocket-propelled grenade struck the helicopter she was co-piloting. As a result, Duckworth lost both legs and the use of one arm.
Since her recovery, Duckworth has dedicated her life to public service, advocating on behalf of disability rights and U.S. military veterans. In 2006, she was the Democratic candidate of Illinois 6th Congressional District. She has received several public service awards and was selected in 2008 to speak on veterans rights at the Democratic National Convention.
As Peace Corps approaches its 50th anniversary, its service legacy continues to promote peace and friendship around the world with 7,671 volunteers serving in 77 host countries. Historically, nearly 200,000 Americans have served with the Peace Corps to promote a better understanding between Americans and the people of 139 host countries. Peace Corps volunteers must be U.S. citizens and at least 18 years of age. Peace Corps service is a 27-month commitment.
# # #
---