FOR IMMEDIATE RELEASE:
Thursday, March 6, 2014
Peace Corps Honors Volunteers who Inspire Women and Girls for International Women's Day
WASHINGTON, D.C., March 7, 2014 – In honor of International Women's Day on Saturday, March 8, the Peace Corps recognizes volunteers working in communities around the world to increase opportunities for women and girls. Peace Corps volunteers regularly organize activities that promote gender equality and empower women and girls to think beyond traditional gender roles.
One of the Peace Corps' most successful and widespread gender-based initiatives is Camp GLOW: Girls Leading our World. Camp GLOW was first established in 1995 by Peace Corps Volunteers in Romania to encourage self-confidence among women and girls by creating a safe and supportive environment for cultural exchange, individuality, creativity, leadership development and fun. Since then, volunteers in 60 Peace Corps countries have established GLOW camps.
Below find three stories of Peace Corps volunteers who are working to inspire women and girls.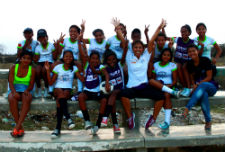 Colombia
Peace Corps volunteer Natally Rodriguez of Northridge, Calif., has teamed up with a local Colombian organization to empower young women and improve their physical health through sports. During interactive soccer drills, Rodriguez mentors a group of young women ages 12-17 on healthy lifestyle choices, self-confidence, body image and life skills.
"The program empowers adolescent girls living in urban settings by providing knowledge and offering a safe place to play," Rodriguez said. "Involvement in sports and physical activity can positively change existing gender norms and help girls and women move into public spaces. Moreover, these activities have provided opportunities to bring communities together and help realize development objectives relating to issues like reproductive health and gender-based violence."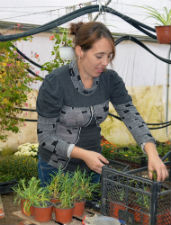 Moldova
Peace Corps volunteer Barbara Jue of San Francisco, Calif., is helping women in her Moldovan community become financially independent entrepreneurs. A retired human resources executive for Fortune 500 companies, Jue advises a local agency that works to support women in business on business development, human resources management and organizational development. Jue has also developed a workshop on strategic human resources management for small business owners and led a series of successful sessions.

"Workshop participants are small business owners who have succeeded to the point of employing people but are encountering human resources issues relative to attracting, motivating and retaining employees," Jue said. "Assisting women in Moldova to gain greater economic footing will be a boon to the whole country. I'm excited about helping out in this important effort."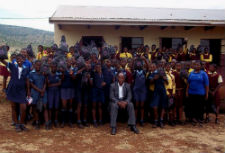 South Africa
Peace Corps volunteer Daniel Woznica of Oak Park, Ill., is helping a local South African organization secure continued funding for the distribution of reusable sanitary pads to women and girls, which improve their health and boost school attendance. Using data gathered from students during distribution of the washable pads, Woznica works with his team to demonstrate the project's success to key stakeholders to ensure the organization has the resources it needs to continue its efforts. The organization not only hands out sanitary pads but also leads information sessions at local high schools on healthy lifestyle choices.
"The pads are an effective entry point for behavior change communication," Woznica said. "We are hoping to expand our reach by securing more funding for the washable pads. The end goals of the project are to affirm girls' basic dignity in their bodies, improve health and reduce school absenteeism among girls who are menstruating."

About the Peace Corps: As the preeminent international service organization of the United States, the Peace Corps sends Americans abroad to tackle the most pressing needs of people around the world. Peace Corps volunteers work at the grassroots level with local governments, schools, communities, small businesses and entrepreneurs to develop sustainable solutions that address challenges in education, health, economic development, agriculture, environment and youth development. When they return home, volunteers bring their knowledge and experiences – and a global outlook – back to the United States that enriches the lives of those around them. President John F. Kennedy established the Peace Corps in 1961 to foster a better understanding among Americans and people of other countries. Since then, more than 215,000 Americans of all ages have served in 139 countries worldwide. Visit www.peacecorps.gov to learn more.
# # #
---