FOR IMMEDIATE RELEASE:
Friday, November 20, 2015
Peace Corps Honors Volunteers Who Engage Men and Boys in Gender Equity Activities on International Men's Day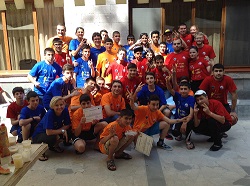 WASHINGTON, D.C. November 20, 2015 – In honor of International Men's Day, the Peace Corps recognizes volunteers who are working with their communities to educate and uplift men in order to reduce gender-based discrimination and foster a culture of mutual respect and understanding. Founded in 1999 to acknowledge both the challenges men face and their achievements, International Men's Day is celebrated in more than 50 countries around the world.
Below, learn how Peace Corps volunteers in Cameroon and Armenia have contributed to greater equality through educational workshops designed especially for boys.
Cameroon
Recently returned Peace Corps volunteer Lara Mertens of St. Louis, Missouri, worked to empower men in her community to become champions of gender equity by organizing "Men as Partners" workshops. Through the workshops Mertens taught participants about the imporatnce of gender equailty, helped them build leadership skills and encouraged them to be positive role models in their communities.
"I believe they all learned something and if nothing else, a seed was planted," said Mertens. "I am very impressed by this group of students and can't wait to see their future community involvement!"
Armenia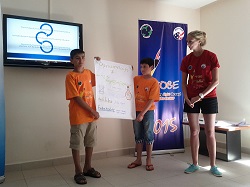 In the summer, Peace Corps volunteers hosted a camp for 30 teenage boys from across Armenia to teach them about healthy lifestyles and relationships. The boys who attended the Teaching Our Boys Excellence Camp participated in trainings that fostered leadership, gender-equity and problem-solving skills. The boys also learned project management skills so they can lead workshops to share what they learned at camp in their communities.
"The camp was so interesting that I didn't realize how fast these seven days went by. I wished I could go back to day one," one of the participants said.
About the Peace Corps: The Peace Corps sends the best and brightest Americans abroad on behalf of the United States to tackle the most pressing needs of people around the world. Volunteers work at the grassroots level to develop sustainable solutions that address challenges in education, health, economic development, agriculture, environment and youth development. Through their service, volunteers gain a unique cultural understanding and a life-long commitment to service that positions them to succeed in today's global economy. Since President John F. Kennedy established the Peace Corps in 1961, more than 220,000 Americans of all ages have served in 140 countries worldwide. For more information, visit www.peacecorps.gov and follow us on Facebook and Twitter.
# # #
---