Peace Corps Honors Volunteers Who Aided Recovery on 10th Anniversary of Hurricane Katrina
August 28, 2015
Peace Corps Response volunteers responded to devastation in agency's first and only domestic program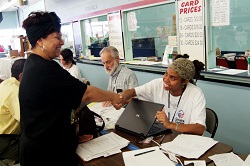 WASHINGTON, D.C., August 28, 2015 – In recognition of the 10th anniversary of Hurricane Katrina, Peace Corps honors the millions of lives affected by the storm's mass devastation and the 272 Peace Corps Response volunteers who responded to the relief and reconstruction efforts. Just ten days after Katrina ravaged the Gulf Coast, Peace Corps mobilized the first group of reponders to Baton Rouge during the only domestic placement of volunteers in the agency's 54-year history.
"I was honored to work with disaster victims one-on-one and was proud to be associated with the Peace Corps while doing it," said Matt Koltermann, who aided recovery efforts in Thibodaux, Louisiana. "I was truly impressed by how quickly and efficiently Peace Corps was able to mobilize under the circumstances."
Working on 30-day assignments, volunteers engaged in a wide range of projects – from opening a new disaster recovery center in the Lower 9th Ward to distributing food and water to displaced families in Houston. In total, volunteers served 9,323 days and committed 74,584 hours of service.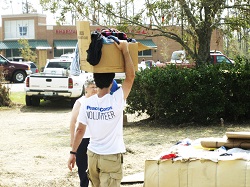 "It was amazing to see so many strong, positive people affected by the storm coming back to their homes for the first time," said Leslie Noa-Rye, who worked in New Orleans. "It really felt like we were doing something to help."
Following the relief efforts, Peace Corps' World Wise Schools program added a section to their elementary and middle school curriculum to teach students about hurricanes. The lessons detail the effects of Katrina and Hurricane Georges in the Dominican Republic and explore recovery efforts and the science behind hurricanes.
This year marks the 19th anniversary of the Peace Corps Response program. Formerly known as Crisis Corps, the program was originally created to send returned Peace Corps volunteers to short-term, specialized volunteer assignments in post-disaster settings. In 2012, Peace Corps expanded the Response program to include Americans with significant professional experience and required language and cultural skills to address host country needs. To view current Peace Corps Response opportunities, visit www.PeaceCorps.gov/response/apply.
About the Peace Corps: The Peace Corps sends the best and brightest Americans abroad on behalf of the United States to tackle the most pressing needs of people around the world. Volunteers work at the grassroots level to develop sustainable solutions that address challenges in education, health, economic development, agriculture, environment and youth development. Through their service, volunteers gain a unique cultural understanding and a life-long commitment to service that positions them to succeed in today's global economy. Since President John F. Kennedy established the Peace Corps in 1961, nearly 220,000 Americans of all ages have served in 140 countries worldwide. For more information, visit www.peacecorps.gov and follow us on Facebook and Twitter.