FOR IMMEDIATE RELEASE:
Thursday, May 30, 2013
Peace Corps Honors President John F. Kennedy's Birthday at Arlington National Cemetery
WASHINGTON, D.C., May 30, 2013 – In honor of President John F. Kennedy's birthday, Peace Corps Deputy Director Carrie Hessler-Radelet spoke Wednesday at the 29th annual wreath laying ceremony at Arlington National Cemetery held by the Returned Peace Corps Volunteers of Washington, D.C. The Peace Corps traces its roots and mission to 1960, when then-Senator Kennedy challenged students at the University of Michigan to serve their country in the cause of peace by living and working in developing countries.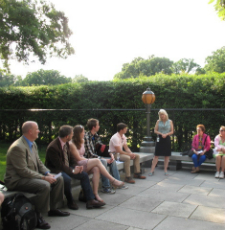 "Today we gather to lay flowers at the grave of President John F. Kennedy – a worthy tribute in honor of a great man," Hessler-Radelet said. "Yet I believe the greatest legacy of President Kennedy is not contained here at Arlington Cemetery – instead, the greatest legacy of President Kennedy is teaching English in Namibia, training local entrepreneurs in Nicaragua, and improving access to technology in Ukraine."
While the agency's mission of world peace and friendship has not changed, Hessler-Radelet noted new advances that President Kennedy would be proud of, such as technology initiatives implemented by volunteers that include the use of social media, the installation of solar-powered computer labs, and text messaging to answer questions about HIV healthcare.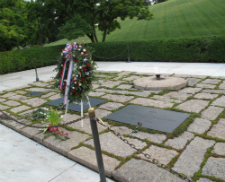 Since President Kennedy created the Peace Corps, more than 210,000 Americans have made a difference as Volunteers in 139 host countries. Today's Peace Corps is more vital than ever, working in emerging and essential areas like information technology and business development, and contributing to the President's Emergency Plan for AIDS Relief. Peace Corps Volunteers continue to help countless individuals who want to build a better life for themselves, their children, and their communities.
# # #
---