FOR IMMEDIATE RELEASE:
Thursday, July 25, 2013
Peace Corps Honors Parents in Service for Parents' Day
WASHINGTON, D.C., July 26, 2013 – In honor of Parents' Day this Sunday, July 28, Peace Corps recognizes mothers and fathers who have made a difference in communities abroad through Peace Corps service and have inspired others to serve. Below, find one family's Peace Corps story.
Natalie Neft comes from a family dedicated to service. She served as a Peace Corps health volunteer in Zambia from 2010-2012 and is now studying to become a nurse practitioner. Her father, Martin Neft, served as a Peace Corps volunteer in the Philippines from 1967-1969, and recently left for his second Peace Corps tour as one of the first volunteers in Peace Corps' Global Health Service Partnership program. He joins other doctors and nurses in Tanzania who are working to train local healthcare professionals. Natalie credits her time in the Peace Corps to her father's constant encouragement and dedication to service.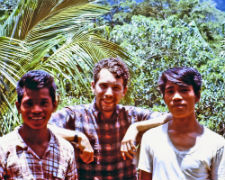 "Growing up, my dad explained to me all that he had done as a volunteer, everything from work to cultural experiences, and I remember thinking, 'I'm going to do that someday,'" Natalie said. "There were pictures around our house from his time in the Philippines and even a traditional shield given to him during service. I always found these items and stories fascinating and inspiring."
During her service, Natalie found that her father's Peace Corps stories influenced some of her own decisions. When she was asked to dance in front of nearly 200 people during an Independence Day celebration in Zambia, she recalled one of those stories.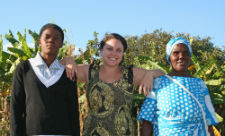 "The first day in my dad's village, his community leaders introduced him and then said 'and now Mr. Neft will sing us a song.' I remember asking him if he sang, and he replied 'absolutely.' He said his community loved it, and it made them much warmer and trusting of him. I remembered the positive outcome that making a fool of yourself can have in breaking down barriers, so I did it. My community members talked about my dance for the rest of my service."
Natalie's parents visited her twice throughout her 27 months in Zambia, and both times her father put his Peace Corps skills to work. He helped Natalie's friend with an HIV/AIDS project, fixed a leaking faucet, and caught and prepared the family's dinner.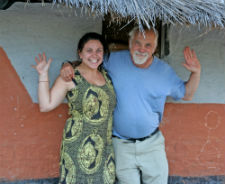 "I am filled with so much pride," Natalie said of her father. "He inspires me in so many ways. I look up to him professionally and personally, and his participation in the Global Health Service Partnership program only makes me admire him more. Both having been returned Peace Corps volunteers has strengthened our bond, and I can't wait to swap stories about his time in Tanzania."
The Global Health Service Partnership is a collaboration of the Peace Corps, the President's Emergency Plan for AIDS Relief (PEPFAR), and the non-profit Seed Global Health that presents an opportunity for American physicians and nurses to make a real difference in communities abroad by helping to address the known shortage of skilled physicians, nurses and clinical faculty in resource-limited countries. To learn more, visit http://www.peacecorps.gov/response/globalhealth/.
About the Peace Corps: Since President John F. Kennedy established the Peace Corps by executive order on March 1, 1961, more than 210,000 Americans have served in 139 host countries. Today, 8,073 volunteers are working with local communities in 76 host countries in agriculture, community economic development, education, environment, health and youth in development. Peace Corps volunteers must be U.S. citizens and at least 18 years of age. Peace Corps service is a 27-month commitment and the agency's mission is to promote world peace and friendship and a better understanding between Americans and people of other countries. Visit www.peacecorps.gov for more information.
###
# # #
---