FOR IMMEDIATE RELEASE:
Friday, September 21, 2012
Peace Corps Honors Nine Outstanding Returned Volunteers with the 2012 Franklin H. Williams Award
WASHINGTON, D.C., Sept. 21, 2012 – Nine returned Peace Corps volunteers (RPCVs) were presented with the Franklin H. Williams award on Thursday evening during a ceremony at Peace Corps Headquarters. The award honors ethnically diverse returned volunteers who exemplify a commitment to community service and Peace Corps' third goal of promoting a better understanding of other peoples on the part of Americans. Award recipients were selected from each of the nine Peace Corps Regional Recruitment Offices nationwide.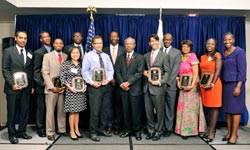 "These individuals have demonstrated a commitment to public service that reflects what it truly means to be a Peace Corps volunteer," said Peace Corps acting Director Carrie Hessler-Radelet. "They have made efforts to generate awareness around the Peace Corps, provided assistance to Peace Corps' regional recruiting office staff and worked to promote Peace Corps' third goal. Their dedication to service helps Americans across the country gain a greater understanding of the world."
The following returned Peace Corps volunteers are the 2012 Franklin H. Williams award recipients:
Rodney Davis-Gilbert (Micronesia, 1989-1991)
Barbara Ferguson Kamara (Liberia, 1963-1965)
Leslie Jean-Pierre (Guinea, 1994-1996)
Rollin Johnson, Jr. (Nepal & Burkina Faso, 2003-2005)
Richard Lopez (Mongolia, 2008-2010)
Joshuah Marshall (Morocco, 2007-2009)
Rosette Nguyen (Guinea, 1994-1996)
Seth Pickens (Haiti, 2001-2003)
Jon Santiago (Dominican Republic, 2006-2008)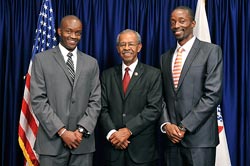 In addition, the Director's Award was presented to Drs. Milton and Fred Ochieng' for their outstanding work as co-founders of the Lwala Community Alliance in Lwala, Kenya. After the brothers lost both of their parents to AIDS, they juggled their medical school studies in the United States with networking and fundraising to build the village's first health center in 2007. The Lwala Community Alliance now provides more than 22,000 patient visits each year. Historically, the Directorí's Award is presented in conjunction with the Franklin H. Williams award.
Read more about the Franklin H. Williams and Director's Award recipients
ABOUT THE FRANKLIN H. WILLIAMS AWARD:
Peace Corps is proud to recognize Franklin H. Williams and pay tribute to his remarkable legacy. Franklin H. Williams was an early architect of the Peace Corps. He worked at the agency from its inception in 1961 to 1963 and helped Sargent Shriver—the first Peace Corps Director—promote the agency and its programs to the world. Ambassador Williams' exceptional public service career included positions as the Peace Corps Regional Director for Africa, the U.S. representative to the United Nations Economic and Social Council, and the U.S. Ambassador to Ghana.
The first Franklin H. Williams award ceremony was held in 1999. Since that time, the ceremony has been held in 2001, 2002, 2003, 2005, 2006, 2008, 2010 and 2012. To date, 101 outstanding returned Peace Corps volunteers have received the award.
About the Peace Corps: Since President John F. Kennedy established the Peace Corps by executive order on March 1, 1961, more than 210,000 Americans have served in 139 host countries. Today, 9,095 volunteers are working with local communities in 75 host countries. Peace Corps volunteers must be U.S. citizens and at least 18 years of age. Peace Corps service is a 27-month commitment and the agencyís mission is to promote world peace and friendship and a better understanding between Americans and people of other countries. Visit www.peacecorps.gov for more information.
# # #
---