FOR IMMEDIATE RELEASE:
Tuesday, March 8, 2011
Peace Corps Honors International Womens Day
WASHINGTON, D.C., March 8, 2011 On the 100th anniversary of International Womens Day, the Peace Corps is proud to recognize the work of volunteers who empower women and girls to think beyond traditional gender roles and encourage self-confidence. Peace Corps volunteers organize many programs with their local communities that foster education, public health-awareness, and promote small businesses. Volunteers work with local communities to create womens groups, after-school clubs and camps geared towards women and youth.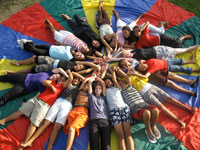 "Every day, Peace Corps volunteers lead by example and empower young women to become leaders in their local communities," Williams said. "I envision a world with more opportunities for young women to pursue leadership roles and I am proud of the commitment of Peace Corps volunteers making these opportunities a reality for thousands of our worlds youth."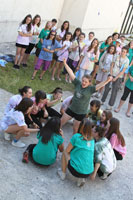 In 2010, nearly 1,800 Peace Corps volunteers helped organize Camp GLOW (Girls Leading Our World) or similar camps in host countries around the world. These camps promote gender equality and empower young women by creating a safe and supportive environment for cultural exchange, individuality, creativity, leadership development, and fun. The first Camp GLOW was established by Peace Corps volunteers in Romania 16 years ago. Since 1995, volunteers in 60 countries have established similar programs to promote the empowerment of women. The concept has been adapted and developed since originally conceived, with one group of volunteers passing along the lessons learned to the next group of volunteers who serve as counselors and mentors. Last summer, Peace Corps Director Williams visited a Camp GLOW in Macedonia. His visit was featured on the
White House blog
.
The following are highlights of how Peace Corps volunteers support women and girls:
Bulgaria
Ursula Kirk of Port Murray, N.J., is a community and organizational development volunteer in Bulgaria. Kirk works with a nongovernmental organization that works with Bulgarian youth. Kirk also works at orphanage, teaches dance classes, runs a girls club, and coaches a girls basketball team. To learn more about Kirk and her work as a volunteer, visit
the Peace Corps on YouTube
.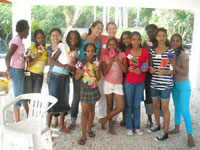 Dominican Republic
Peace Corps volunteers in the Dominican Republic organized educational events to commemorate International Womens Day. Several volunteers organized womens parades, womens history projects, take your daughter to work events, volleyball tournaments and gender-based trainings.
Zambia
In December 2010, 12 Peace Corps volunteers in Zambia organized a week-long sleep-over camp that taught 24 participants decision making, self esteem, goal setting, and healthy living. The Peace Corps volunteers have followed up with camp graduates to form GLOW Clubs at their schools.
About the Peace Corps:
President John F. Kennedy established the Peace Corps on March 1, 1961, by executive order. Throughout 2011, Peace Corps is commemorating 50 years of promoting peace and friendship around the world. Historically, more than 200,000 Americans have served with the Peace Corps to promote a better understanding between Americans and the people of 139 host countries. Today, 8,655 volunteers are working with local communities in 77 host countries. Peace Corps volunteers must be U.S. citizens and at least 18 years of age. Peace Corps service is a 27-month commitment. Visit www.peacecorps.gov for more information.
# # #
---