FOR IMMEDIATE RELEASE:
Sunday, August 26, 2018
Peace Corps honors change-makers on Women's Equality Day
WASHINGTON – Women's Equality Day commemorates the ratification of the 19th Amendment and the resilient women who work to promote the American value of equality.  Today, Peace Corps recognizes the contributions that volunteers have made to help advance equality across the globe and back home in the United States. Currently, women make up 63 percent of all Peace Corps volunteers.
From starting leadership camps for girls to advocating for women's health, many Peace Corps volunteers organize programs that encourage gender equality and women's empowerment. In Albania and Senegal, volunteers Kelsey Turner and Emma Murphy are working with their communities to challenge the status quo, empower women and girls, and inspire future leaders.
Albania
Kelsey Turner, of Orleans, Massachusetts, has turned the challenge of being a woman in her community into an opportunity for positive change. To combat negative stereotypes, she made an inspirational video to highlight the female leaders in her town. "Many of the strong women in town who I admire have led to me growing in my own strength," she says. "I've learned the extreme importance of women supporting and encouraging each other."

To encourage and empower young women and girls, Kelsey also organized a Girl Scout Troop and a Girls Leading Our World Camp (GLOW). She says that she has seen how difficult it can be for women to be heard, but she knows that she is making a difference when people come up to her and tell her how the camps and clubs have inspired them to think differently about women.
"Hopefully I am inspiring others to change societal ideas in the future," Kelsey says. It has been a privilege, she adds, "to empower young girls to realize that they can do and be anything that they want."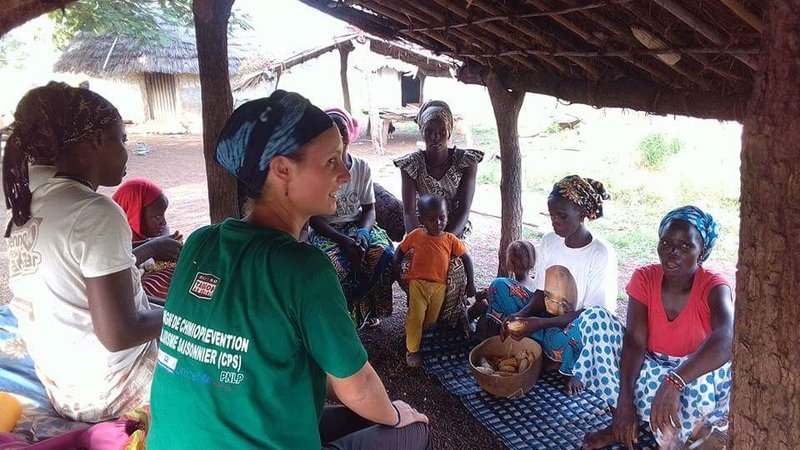 Senegal 

Emma Murphy, of Washington, D.C., set out to improve the health of her community with her women's healthcare group, Peudebi, which means "coming together" in the local language. When she got to her site, it seemed many community members did not have knowledge of essential healthy habits, especially when it came to women's health.

To raise awareness about healthy habits and women's healthcare, Emma assembled the most powerful group she could imagine to help launch the project. "I recruited a force of women," she says. "Imagine sixteen of the feistiest women you've ever met."
Together, Emma and her women's group discuss topics such as prenatal care and hand-washing. The women in the group pass along the message to neighbors, friends and family. In addition to improving community health habits, Emma's project combats gender stereotypes by empowering women to advocate for their own health. She says, "The success is found in women giving voice to often unspoken gender inequalities and finding comrades in the effort to get their husbands and sons invested in the health of their wives and children."
# # #
About the Peace Corps: The Peace Corps sends Americans with a passion for service abroad on behalf of the United States to work with communities and create lasting change. Volunteers develop sustainable solutions to address challenges in education, health, community economic development, agriculture, environment and youth development. Through their Peace Corps experience, volunteers gain a unique cultural understanding and a life-long commitment to service that positions them to succeed in today's global economy. Since President John F. Kennedy established the Peace Corps in 1961, more than 230,000 Americans of all ages have served in 141 countries worldwide.
For more information, visit peacecorps.gov and follow us on Facebook and Twitter.
---