FOR IMMEDIATE RELEASE:
Thursday, September 5, 2013
Peace Corps Highlights Volunteers' Worldwide Efforts to Promote Literacy for International Literacy Day
WASHINGTON, D.C., September 6, 2013 – In honor of International Literacy Day on Sunday, Sept. 8, the Peace Corps recognizes volunteers worldwide who are making a difference by promoting literacy among people of all ages through education projects focused on reading and writing. Education is currently Peace Corps' largest sector, with 43 percent of volunteers serving as teachers, teacher trainers and education specialists.
Peace Corps volunteers promote literacy both at the classroom and community levels. In the classroom, volunteers use a variety of teaching methods to enhance reading and writing, such as co-teaching with a local counterpart or acting as a support teacher to a local educator to encourage new teaching strategies like reading aloud, in small groups or one-on-one. At the community level, volunteers start community libraries, organize community read-aloud programs, develop mobile book programs, and support parental engagement in literacy through literacy-focused home visits, summer book camps and clubs, and extra-curricular activities that incorporate reading and writing into daily life.
Below find three examples of Peace Corps literacy projects from around the world.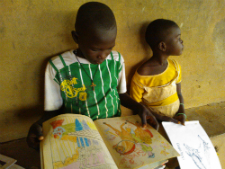 Burkina Faso
In Burkina Faso, Peace Corps volunteer Zach Vinyard of Northampton, Mass., worked with a group of Peace Corps volunteers and local community members to create a series of 10 story books based on local, traditional stories. The group identified illustrators who brought the stories to life, and translators who translated the stories from English and French to Fulfulde, Gourmantchema, Jula and Moore ñ four of the most common languages in Burkina Faso. Vinyard's group also created a list of ten post-reading questions designed to stimulate comprehension and critical thinking.
"The reaction from the children has been incredible; almost without exception, children in Burkina Faso love to be read to, and adults in our communities ñ once they become comfortable reading out loud ñ love reading to children," Vinyard said. "We have found these books invaluable in the effort to encourage children and adults to become literate. This is a critical step in the development of Burkina Faso."
Paraguay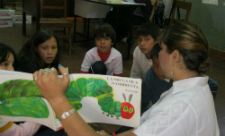 Peace Corps volunteer Claire Stiglmeier of Slingerlands, N.Y., is the youth development and literacy coordinator for Peace Corps programs across Paraguay. Throughout her service, Stiglmeier has worked on a number of literacy programs, including phonological and phonemic awareness and vocabulary development. Working collaboratively with the country's Ministry of Education, she has helped train local teachers at biannual literacy workshops on topics like diagnostic testing, reading and writing processes, guided reading, creative writing and library development.
"Being literate in Paraguay opens doors for children and youth," Stiglmeier said. "It provides access to higher education and professional opportunities, and it promotes development across the entire country. I truly believe that literacy is the key to promote tangible and sustainable change in this country and in the world."
Philippines
In the Philippines, education volunteer Melissa Clouser of Bellefonte, Penn., planned a Read Aloud event at her local school that more than one thousand students attended. Clouser read a story aloud individually to each grade level, and by the time she finished each story, the students had moved closer to hear the story and see the book's pictures. She hopes to continue to encourage reading in the Philippines by creating a school library for students and local community members.
"A legitimate library has the power to improve language acquisition, promote creative thinking and self-exploration, introduce readers to people and places they've never heard of, and build a sense of community and responsibility among students," Clouser said. "I really believe our efforts to promote literacy and a love of reading, and to provide our pupils with reading material has the power to change lives."
Learn more about Peace Corps' education sector at http://www.peacecorps.gov/learn/whatvol/edu_youth.
About the Peace Corps: Since President John F. Kennedy established the Peace Corps by executive order on March 1, 1961, more than 210,000 Americans have served in 139 host countries. Today, 8,073 volunteers are working with local communities in 76 host countries in agriculture, community economic development, education, environment, health and youth in development. Peace Corps volunteers must be U.S. citizens and at least 18 years of age. Peace Corps service is a 27-month commitment and the agency's mission is to promote world peace and friendship and a better understanding between Americans and people of other countries. Visit www.peacecorps.gov for more information.
# # #
---