FOR IMMEDIATE RELEASE:
Friday, April 24, 2015
Peace Corps Grows Malaria Prevention Outreach in Africa
WASHINGTON, D.C., April 24, 2015 – The Peace Corps is leading efforts to eradicate malaria in partnership with the President's Malaria Initiative (PMI) and non-governmental organizations around the world through the Stomping Out Malaria in Africa initiative, which celebrates its fourth anniversary this month. In recognition of World Malaria Day this Saturday, Peace Corps spotlights volunteer projects that are saving lives across Africa.
In Sub-Saharan Africa, malaria killed approximately 584,000 people in 2013, 437,000 of whom were children under the age of 5, according to the World Health Organization.
The Stomping Out Malaria in Africa initiative has significantly increased its investment in malaria prevention in recent years, growing from projects in 13 countries in 2011 to projects in 22 countries today. In the past year alone, more than 760 Peace Corps volunteers reached nearly 350,000 community members across these 22 African countries with malaria prevention outreach. Below find three examples of volunteer activities.
Benin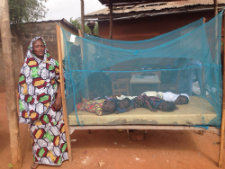 Peace Corps volunteer Hannah Eisen of Madison, Wisconsin, recently distributed more than 400 mosquito bed nets to pregnant women, new mothers and infants receiving care at her local health clinic in Benin, where malaria is endemic. While the clinic offers free care to most of its patients through private donations and is one of the few health centers in the region capable of managing complicated deliveries, it does not receive mosquito nets from the Ministry of Health.
To address this problem, Eisen worked with one of the clinic doctors to secure 415 bed nets from the Beninese government and distribute them to those most in need in her community. Eisen and her fellow health workers then educated patients on how to properly hang a bed net as well as malaria prevention strategies.
"We hung 40 nets over the beds in the clinic and distributed 375 to our patients over two weekends during pre-natal consultations and vaccinations," Eisen said. "Two additional clinic workers visited our patients' homes and allotted nets so there would be one for every two people per household."
Madagascar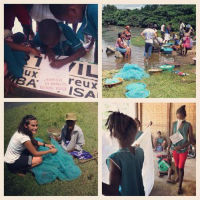 Peace Corps volunteer Loren Diesi of Punta Gorda, Florida, recently visited a leper community in Madagascar to raise malaria awareness in a hard-to-reach community.
"We were welcomed with greetings and smiles by students and adults alike ready to hear what we had to say," Loren said.
Diesi and three fellow volunteers performed a skit illustrating malaria transmission, demonstrated proper bed net cleaning and mending methods, and played educational games explaining the causes and dangers of malaria and how to prevent it.
"The community members were engaged and excited to learn about malaria prevention," Diesi said. "We were very happy about the number of adults who showed up with their nets and actively participated."
Malawi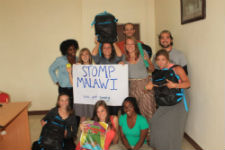 After participating in a Stomping Out Malaria training session, Peace Corps volunteer Rachel Ricciardi of West Milford, New Jersey, was determined to spread awareness and educate her village in Malawi about malaria. According to the World Health Organization, malaria causes 40 percent of deaths in children under the age of two in Malawi.
Ricciardi partnered with a local health professional to start several projects in her village, including an educational drama troupe in collaboration with the local secondary school. One of the troupe's scripts featuring malaria awareness information was broadcast on a popular local radio show.
"Simultaneously, I spearheaded Malawi's first-ever, region-wide World Malaria Month," Ricciardi said. "This set off a domino effect of malaria programs, with painting malaria murals as our ongoing signature project."
About the Peace Corps: The Peace Corps sends the best and brightest Americans abroad on behalf of the United States to tackle the most pressing needs of people around the world. Volunteers work at the grassroots level to develop sustainable solutions that address challenges in education, health, economic development, agriculture, environment and youth development. Through their service, volunteers gain a unique cultural understanding and a life-long commitment to service that positions them to succeed in today's global economy. Since President John F. Kennedy established the Peace Corps in 1961, nearly 220,000 Americans of all ages have served in 140 countries worldwide. For more information, visit www.peacecorps.gov and follow us on Facebook and Twitter.
# # #
---