FOR IMMEDIATE RELEASE:
Wednesday, May 21, 2014
Peace Corps Ghana Cashew Initiative Benefits Local Farmers
Using mobile technology, Peace Corps volunteers help Ghana cashew farmers boost business
WASHINGTON, D.C., May 21, 2014 – Peace Corps volunteer Michael Underwood of Pineville, Ky., is helping cashew farmers in his Ghana community use mobile technology to boost production and improve their business. Giving local farmers the tools to map their farms and better track sales of cashews enables them to identify operational efficiencies and ensure fair prices.
Underwood is one of a number of volunteers working on the effort, known as the Peace Corps Ghana Cashew Initiative. He is also one of more than 1,265 Peace Corps volunteers bringing important food security messages and practices to the grassroots level through the Feed the Future program. This week, Underwood is representing the Peace Corps at the Feed the Future Global Forum in Crystal City, Va., and sharing his experiences with some of the 300 global leaders attending who drive the U.S. government's global hunger and food security initiative.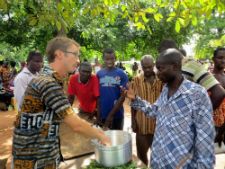 In his community in Ghana, Underwood walks with farmers along the perimeter of their land with a GPS device to calculate its acreage and develop a satellite image of the farm.
"Knowing the acreage is extremely important, as it is how farmers calculate how much pesticide and other chemicals they use," Underwood said. "Most farmers I've worked with either don't know or guess how many acres they own, which causes over-spraying of harmful chemicals."
Underwood has also collaborated with a German software company to develop and pilot mobile software that tracks the origin, quality and prices of cashews from various communities – benefitting both the farmers and cashew buyers. With greater transparency across the industry, farmers can charge more for higher-quality cashews, and buyers can have greater confidence in the value of their purchase. Underwood's work has included programing cell phones and training buyers to use them, as well as providing technical information about the cashew industry and testing the application.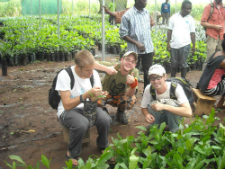 To reduce food waste across the cashew industry, Underwood's fellow Peace Corps volunteers are encouraging local community members to process the cashew apple from the cashew tree, which was previously discarded. Volunteers have formed women's groups that are producing juice and jam from the apples and generating extra income for their families.
"By finding ways to use the cashew fruit, volunteers are cutting down on food waste and introducing an easily accessible and nutritious food," Underwood said. "In addition, the increased income from the sale of the fruit products, the premiums from selling higher-quality cashew nuts, and money saved by working in farmer groups has aided in creating greater food security and allowing more people access to foods with higher nutrient values."
The Peace Corps is one of 10 federal departments and agencies contributing to the Feed the Future Initiative. At the Global Forum later today, Peace Corps Acting Director Carrie Hessler-Radelet will deliver the closing keynote address highlighting Peace Corps' contributions to Feed the Future and the agency's work to engage youth in agriculture both domestically and abroad. Read the Feed the Future 2014 progress report released this week documenting the initiative's achievements over the last year here.
About Peace Corps/Ghana: There are currently 143 volunteers in Ghana working in the areas of education, agriculture and health. During their service in Ghana, volunteers learn to speak the local languages, including: Buli, Dagaare, Dagbani, Dangme, Ewe, Fanté, Ga, Ghanaian Sign Language, Gonja, Guruni, Hausa, Kasem, Kusaal, Likipakpaalu, Likpakpaln, Mampruli, Nzema, Sisaali, Taleni, Twi and Waale. More than 4,360 Peace Corps volunteers have served in Ghana since the program was established in 1961.
About the Peace Corps: As the preeminent international service organization of the United States, the Peace Corps sends Americans abroad to tackle the most pressing needs of people around the world. Peace Corps volunteers work at the grassroots level with local governments, schools, communities, small businesses and entrepreneurs to develop sustainable solutions that address challenges in education, health, economic development, agriculture, environment and youth development. When they return home, volunteers bring their knowledge and experiences – and a global outlook – back to the United States that enriches the lives of those around them. President John F. Kennedy established the Peace Corps in 1961 to foster a better understanding among Americans and people of other countries. Since then, more than 215,000 Americans of all ages have served in 139 countries worldwide. Visit www.peacecorps.gov to learn more.
# # #
---