FOR IMMEDIATE RELEASE:
Tuesday, April 4, 2006
Peace Corps' Fellows/USA Programs Expanding to Meet Needs of Local Communities
WASHINGTON, D.C., April 4, 2006 Two years ago, Peace Corps volunteer Michael DeFranco honed his Spanish in Guatemala while teaching the local people about the environment and its importance. Today, a Peace Corps fellow at the Johns Hopkins University School of Nursing in Baltimore, DeFranco has put his Spanish skills and his Peace Corps experience to work back home as he participates in community outreach as part of the university\'s nursing program.
"My experience thus far in the Fellows/USA program has only fueled my desire to play my part in helping solve some of the worlds problems," said DeFranco, who currently works with Programa Salud and the International Rescue Committee at the Baltimore Resettlement Center to provide assistance to Somali refugee groups in the Baltimore area.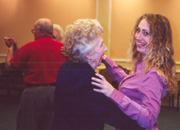 Fellow Jeanne McCarter participates in "Dancing with the Elders" in Baltimore, as she learns about the community she serves.
Peace Corps has seen continued growth and significant advances in its Fellows/USA programs since the program began in 1985. Begun in a partnership with Teachers College, Columbia University, the Fellows/USA program now assists hundreds of communities centered around programs at over 40 U.S. universities.
While the Fellows/USA program has recently expanded in the Carolinas, New York, and Colorado, nowhere has the Fellows/USA programs made a more significant impact than in Baltimore, a metro area that benefits from having three programs. The Peace Corps Fellows/USA program at the Johns Hopkins University School of Nursing nearly doubled participant numbers, from 23 in 2005 to 45 in 2006. Meanwhile, the University of Maryland-Baltimore County Shriver Peacemaker program announced new programs in science, technology, engineering, and mathematics education late last year. The University of Maryland\'s Baltimore campus is also a Fellows/USA partner, having launched its program in 2004.
All three programs are representative of the opportunities available to Peace Corps volunteers upon their return from service abroad. Partnerships among universities, local communities and the Peace Corps provide communities with much-needed services, while furthering the education and experience of volunteers who have served in the field.
Additionally, the programs have found opportunities to assist the community together. Students from the University of Maryland-Baltimore County work in community centers run by the Johns Hopkins University School of Nursing, and students from all three programs are working side by side in the International Rescue Committee at the Baltimore Resettlement Center, where DeFranco is completing his fellowship work.
"After working with vulnerable populations abroad, the students come to the school well-equipped to work with vulnerable populations in their own backyard," said Johns Hopkins University School of Nursing program coordinator and faculty member Lori Edwards. In 16 years, the School of Nursing has graduated 229 returned Peace Corps volunteers from the baccalaureate program.
At the University of Maryland-Baltimore County, the newest programs through a partnership with the Center for Excellence in Science, Technology, Engineering, and Mathematics Education (STEM) renew the Shriver Center\'s mission of preparing citizen leaders. Participants come from a range of backgrounds and bring their Peace Corps and varied experiences into the classroom while completing a one-year masters of arts in teaching. Overall, over 80 returned Peace Corps volunteers have graduated from the University of Maryland-Baltimore County program since 1994.
An example of the work being done through the Shriver Center is Carrie Wilson\'s project. Formerly a Peace Corps volunteer in Guinea and now a Shriver Peaceworker, Wilson is earning a masters degree in economic policy analysis. Meanwhile, she alsor Peaceworker, Wilson is earning a masters degree in economic policy analysis. Meanwhile, she also serves at Women Entrepreneurs of Baltimore, focusing on projects supporting micro-enterprise development as a path out of poverty.
"We have Peaceworkers doing good works throughout the Baltimore region," said Joby Taylor, director of the Shriver Peaceworkers Program. "In my humble opinion, the program is without doubt the city\'s best unknown force for positive social change."
Although the University of Maryland-Baltimore has only been a Fellows/USA partner since 2004, it already has five fellows. Jennifer Will and Laurel Smith, two of the fellows, are currently also interning with the International Rescue Committee at the Baltimore Resettlement Center. Their projects include providing services to newly arrived refugees, including teaching clients how to cash checks and use public transportation; assisting clients with medical appointments, grocery shopping, and school; and providing cultural orientation training.
"Overseas, volunteers learn self-reliance, how to navigate systems, and how to communicate with people with whom they may have very little in common. These skills are essential in social work," said Lane Victorson, University of Maryland-Baltimore Fellows/USA program coordinator and alumnus of the Shriver Peaceworker Fellows program.
"Returned Peace Corps volunteers bring excellent cross-cultural communication and program planning skills from their prior experience. More importantly, they have been the strangers in a land where they could not understand the language, the culture or the systems. They use the coping skills they learned to help refugee families integrate," said Ann Flagg, International Rescue Committee Resource Developer.
Nationwide, there are currently 351 returned Peace Corps volunteers pursuing graduate degrees through Fellows/USA, a record high in the program\'s 20-year history. Since 2004, the Fellows/USA program has added 11 new campuses, each in a different state, to its roster. For information on these and other Fellows/USA programs, please visit the
Fellows/USA
section.
The Peace Corps is celebrating a 45-year legacy of service at home and abroad, and a 30-year high for volunteers in the field. Since 1961, more than 182,000 volunteers have helped promote a better understanding between Americans and the people of the 138 countries where volunteers have served. Peace Corps volunteers must be U.S. citizens and at least 18 years of age. Peace Corps service is a 27-month commitment.
# # #
---