FOR IMMEDIATE RELEASE:
Wednesday, June 30, 2010
Peace Corps Featured at the National Conference on Volunteering and Service
WASHINGTON, D.C., June 30, 2010 Members of Peace Corps leadership participated in the 2010 National Conference on Volunteering and Service, held in New York, N.Y. from June 28-30. The Peace Corps participants, including Director Aaron S. Williams (Dominican Republic, 1967-1970), led interactive panels that focused on how Peace Corps and its AmeriCorps partners are working together to create more community service opportunities at home and overseas for Americans.
President Obamas call to service has inspired many Americans to contribute their creativity, enthusiasm and time to local communities in a meaningful way, said Director Williams during his remarks on a panel that explored ways to enhance civic engagement and serve local communities. Peace Corps and AmeriCorps offer Americans unique leadership opportunities in community development. I know firsthand that nothing compares to the responsibility and experience gained by serving with the Peace Corps.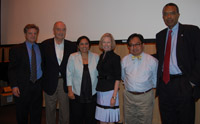 Director Williams participated on a panel that included Service World Co-Chair John Bridgeland; United Nations Foundation CEO Kathy Bushkin Calvin; Credit Suisse Americas Foundation Executive Director Eric Eckholdt; Hands on Manila Executive Director John Silva; and Peace Corps architect, Senator Harris Wofford. White House Office of Social Innovation and Civic Participation Director Sonal Shah moderated the panel that focused on how government, business, and nongovernmental organizations worldwide are working to achieve social and economic goals. Leaders of other Peace Corps offices convened panels that focused on Peace Corps service abroad and how combining AmeriCorps and Peace Corps service is a great career path for young Americans.
This year, Peace Corps has partnered with four AmeriCorps organizations: Americas Service Commissions, City Year, The Corps Network, and The National Association of Community Health Centers. These AmeriCorps organizations are working with Peace Corps to increase the number of volunteer opportunities for Americans both at home and overseas.
The National Conference on Volunteering and Service is an annual conference and the worlds largest gathering of service and volunteer leaders. This years conference was convened by the Corporation for National and Community Service, Points of Light Institute, NYC Service, New Yorkers Volunteer, and the local host committee, chaired by New York City Mayor Michael R. Bloomberg.
As Peace Corps approaches its 50th anniversary, its service legacy continues to promote peace and friendship around the world with 7,671 volunteers serving in 77 host countries. Historically, nearly 200,000 Americans have served with the Peace Corps to promote a better understanding between Americans and the people of 139 host countries. Peace Corps volunteers must be U.S. citizens and at least 18 years of age. Peace Corps service is a 27-month commitment.
# # #
---