FOR IMMEDIATE RELEASE:
Tuesday, July 19, 2011
Peace Corps Expands Collaboration with Centers for Disease Control and Prevention
Two Agencies Sign a Memorandum of Understanding
Washington, D.C., July 19, 2011 The Peace Corps and the Centers for Disease Control and Prevention (CDC) announced a Memorandum of Understanding (MOU) to expand collaboration between the two agencies and help countries meet their needs for public health training and education. The MOU was signed by Peace Corps Director Aaron S. Williams and CDC Director Thomas R. Frieden, M.D., M.P.H. on July 14 at Peace Corps Headquarters in Washington, D.C. The Peace Corps and CDC previously signed a MOU in 2003 and 2006.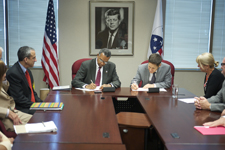 The Peace Corps and CDC have a long history of collaboration, particularly in helping prevent HIV/AIDS and malaria, said Peace Corps Director Williams. By leveraging the CDCs expertise, Peace Corps volunteers will have more resources to promote public health programs in their communities.
CDC staff and Peace Corps volunteers share a singular dedication to helping people around the world live healthier, longer, more productive lives, said CDC Director Frieden. We have a long-standing partnership with hundreds of returned Peace Corps volunteers at CDC and we look forward to further strengthening this partnership.
Under the expanded MOU, the Peace Corps and the CDC will work together on a whole-of-government approach to strengthen health systems through increased collaboration in selecting Peace Corps health volunteers worksites and ensure that volunteers work in areas with the greatest public health needs. The Peace Corps and CDC are looking to start a mentorship program that matches CDC field staff with Peace Corps volunteers and help expand volunteers technical experience. The MOU also encourages CDC to provide training and scientific and evidence-based input to Peace Corps to help strengthen their health projects.
The CDC is a key partner for Peace Corps in implementing the
Presidents Malaria Initiative (PMI)
and the
Presidents Emergency Plan for AIDS Relief (PEPFAR)
. Since the early 2000s, the Peace Corps and the CDC have collaborated in more than 20 countries around the world, in areas like HIV/AIDS education, malaria prevention, potable water and sanitation, hygiene practices, nutrition, and disease awareness and prevention. For example, in Burkina Faso, Ethiopia, and Ghana, volunteers are trained by CDC field staff to monitor local communities and refer suspected cases of polio and measles to health clinics. Volunteers also help educate communities about the importance of immunizations.
About the Peace Corps:
President John F. Kennedy established the Peace Corps on March 1, 1961, by executive order. Throughout 2011, Peace Corps is commemorating 50 years of promoting peace and friendship around the world. Historically, more than 200,000 Americans have served with the Peace Corps to promote a better understanding between Americans and the people of 139 host countries. Today, 8,655 volunteers are working with local communities in 76 host countries. Peace Corps volunteers must be U.S. citizens and at least 18 years of age. Peace Corps service is a 27-month commitment. Visit www.peacecorps.gov for more information.
# # #
---