FOR IMMEDIATE RELEASE:
Friday, December 11, 2009
Peace Corps Establishes Program in Indonesia
WASHINGTON, D.C., December 11, 2009 United States and Republic of Indonesia government officials have signed an agreement to create a Peace Corps program in Indonesia. U.S. Under Secretary of State for Political Affairs William J. Burns and Deputy to the State Minister for the Indonesian National Development Planning/The National Development Planning Agency (Bappenas) for Political, Legal, Defense and Security Affairs Bambang Sutedjo signed the agreement today in Jakarta. Incoming Peace Corps/Indonesia Country Director Ken Puvak represented Peace Corps at the signing.
On behalf of the entire Peace Corps, it is an honor to be invited by the Republic of Indonesia to cooperate on Peace Corps service opportunities in Indonesian communities, said Peace Corps Director Aaron S. Williams. This partnership in technical cooperation will encourage Americans and Indonesians to work side-by-side on Indonesia\'s education initiatives while advancing a greater understanding of both countries on the part of all involved.
I share President Obamas commitment to increase education and public service opportunities around the world. I look forward to working with our Indonesian partners with the Ministry of National Education and Ministry of Religious Affairs on education and teacher training initiatives.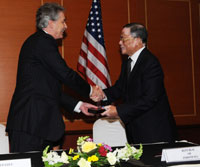 Indonesia is one of 76 current Peace Corps host-countries. Other Peace Corps host-countries in the region include China, Cambodia, Mongolia, The Philippines and Thailand. The first group of approximately 25 Peace Corps volunteers is expected to arrive in Indonesia by mid-2010. They will work as English teachers in high schools and teacher training institutions and will join a legacy of service first created by President John F. Kennedy in 1961.
As Peace Corps approaches its 50th anniversary, its service legacy continues to promote peace and friendship around the world with 7,671 volunteers serving in 76 host countries. Historically, nearly 200,000 Americans have served with the Peace Corps to promote a better understanding between Americans and the people of 139 host countries. Peace Corps Volunteers must be U.S. citizens and at least 18 years of age. Peace Corps service is a 27-month commitment. To learn more about the Peace Corps, please visit our website: www.peacecorps.gov.
# # #
---