FOR IMMEDIATE RELEASE:
Tuesday, November 15, 2011
Peace Corps Director Williams Visits Volunteers in the Philippines
Washington, D.C., Nov. 15, 2011 Peace Corps Director Aaron S. Williams visited the Philippines from Nov. 1 to Nov. 8 to commemorate Peace Corps 50th anniversary, visit the work sites of Peace Corps volunteers, and meet with Philippine President Benigno S. Aquino III and key Philippine government ministries. Peace Corps volunteers have served consecutively in the Philippines since the agency was established by President John F. Kennedy in 1961.
For 50 years, Peace Corps volunteers and the people of the Philippines have shared a unique bond that continues to endure, said Director Williams. More than 8,000 Peace Corps volunteers have served in the Philippines and today volunteers work on projects ranging from coastal resource management, youth and family services, to small business development.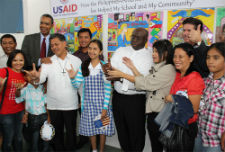 During the trip, Director Williams visited the work site of Peace Corps volunteers, including a Youth Development volunteer who works with young people who have been abused, neglected, or abandoned. The volunteer who arrived in the Philippines in November 2010 works closely with a local centers staff to promote the educational, emotional, and social development of youth and implement a program that combats malnutrition.
On Nov. 4, Director Williams participated in the joint
Peace Corps-U.S. Agency for International Development (USAID) 50th anniversary celebration
at the Mall of Asia in Pasay City, along with U.S. Ambassador to the Philippines Harry K. Thomas, Jr., Philippine Department of Education Secretary Brother Armin Luistro, and USAID Deputy Assistant Administrator Greg Beck. The event featured projects by Peace Corps volunteers and their local counterparts.
About Peace Corps/Philippines:
More than 8,592 Peace Corps volunteers have served in the Philippines since the program was established in 1961. Currently, 238 volunteers serve in the Philippines. Volunteers work in the areas of education, youth and family development, and coastal resource management. Volunteers are trained and work in Aklanon, Bikol-Albay, Bikol-Naga, Cebuano, Hiligaynon, Ibaloi, Ilokano, Kankana-ey Kinaray-a, Pangasinan, Tagalog, and Waray.
About the Peace Corps:
President John F. Kennedy established the Peace Corps on March 1, 1961, by executive order. Throughout 2011, Peace Corps is commemorating 50 years of promoting peace and friendship around the world. Historically, more than 200,000 Americans have served with the Peace Corps to promote a better understanding between Americans and the people of 139 host countries. Today, 9,095 volunteers are working with local communities in 75 host countries. Peace Corps volunteers must be U.S. citizens and at least 18 years of age. Peace Corps service is a 27-month commitment. Visit www.peacecorps.gov for more information.
# # #
---