FOR IMMEDIATE RELEASE:
Friday, March 26, 2010
Peace Corps Director Welcomes U.S. Global AIDS Coordinator to Peace Corps Headquarters
WASHINGTON, D.C., March 26, 2010 Peace Corps Director Aaron S. Williams welcomed United States Global AIDS Coordinator Ambassador Eric Goosby and U.S. Government technical advisors at an interagency meeting to discuss the state of the Presidents Emergency Plan for AIDS Relief (PEPFAR) held at Peace Corps headquarters.
Last year thousands of Peace Corps Volunteers worked on HIV/AIDS related activities worldwide, said Peace Corps Director Aaron S. Williams in his remarks to the meeting participants. Although the Peace Corps has seen success, we cannot afford to rest on our achievements. Peace Corps remains committed to delivering innovative programs that sustain the global fight against HIV/AIDS.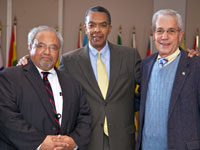 In 2009, over 3000 Peace Corps volunteers worked to combat HIV/AIDS in 66 countries worldwide. Peace Corps volunteers work directly with health care workers, teachers, farmers, businesspeople and youth to develop localized and effective techniques to combat HIV/AIDS. From prevention education to youth development to nutritional counseling, Peace Corps volunteers provide assistance to people living with HIV/AIDS and work to slow the spread of the disease.
Peace Corps is a key PEPFAR partner. Launched in 2003 to combat global HIV/AIDS, PEPFAR is the largest commitment by any nation to combat a single disease in history.
Ambassador Eric Goosby serves as the U.S. Global AIDS Coordinator, overseeing the implementation of PEPFAR and U.S. Government engagement with the Global Fund to Fight AIDS, Tuberculosis and Malaria.
As Peace Corps approaches its 50th anniversary, its service legacy continues to promote peace and friendship around the world with 7,671 volunteers serving in 76 host countries. Historically, nearly 200,000 Americans have served with the Peace Corps to promote a better understanding between Americans and the people of 139 host countries. Peace Corps Volunteers must be U.S. citizens and at least 18 years of age. Peace Corps service is a 27-month commitment.
# # #
# # #
---