FOR IMMEDIATE RELEASE:
Wednesday, June 29, 2011
Peace Corps Director Visits Volunteers in Tanzania
Commemorates Peace Corps 50th Anniversary
Washington, D.C., June 29, 2011 Peace Corps Director Aaron S. Williams traveled to Tanzania, one of Peace Corps first countries, from June 19-24 to commemorate the agencys 50th anniversary and welcome Peace Corps trainees who recently started10 weeks of pre-service training.
Director Williams also met with President of the United Republic of Tanzania Jakaya Mrisho Kikwete and met with volunteers serving across the country. He recognized the work of volunteers in Tanzania at a Peace Corps 50th anniversary event held on June 22 on the grounds of the U.S. Embassy in Dar es Salaam.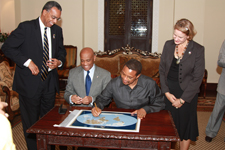 The volunteers in Tanzania and around the world represent a 50-year legacy of promoting peace and friendship, said Director Williams. Peace Corps volunteers work with communities across Tanzania to create sustainable solutions, teaching English as a second language, working in HIV/AIDS education, spearheading grassroots efforts to promote environmental awareness, and providing advice and instruction on nutrition and food security.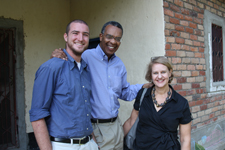 The first Peace Corps volunteers to serve in Tanganyika (Tanzania) began training for Peace Corps service in June 1961. On August 28, 1961, President John F. Kennedy hosted
a ceremony at the White House Rose Garden
in honor of the first groups of Peace Corps volunteers departing for service in Ghana and Tanganyika.
About Peace Corps/Tanzania:
More than 2,280 Peace Corps volunteers have served in Tanzania since the program was established in 1961. Volunteers work in the areas of secondary education, environmental preservation, agricultural development, and HIV/AIDS awareness and prevention. Many volunteers working on HIV/AIDS prevention and care receive support from the U.S. Presidents Emergency Plan for AIDS Relief (PEPFAR) program. Currently, 171 volunteers are serving in Tanzania. Volunteers are trained and work in Kiswahili.
About the Peace Corps:
President John F. Kennedy established the Peace Corps on March 1, 1961, by executive order. Throughout 2011, Peace Corps is commemorating 50 years of promoting peace and friendship around the world. Historically, more than 200,000 Americans have served with the Peace Corps to promote a better understanding between Americans and the people of 139 host countries. Today, 8,655 volunteers are working with local communities in 77 host countries. Peace Corps volunteers must be U.S. citizens and at least 18 years of age. Peace Corps service is a 27-month commitment. Visit www.peacecorps.gov for more information.
# # #
---