FOR IMMEDIATE RELEASE:
Monday, November 22, 2010
Peace Corps Director Visits University of California, Santa Barbara
WASHINGTON, D.C., Nov. 22, 2010 Peace Corps Director Aaron S. Williams addressed students and met with returned and prospective Peace Corps volunteers yesterday at the University of California, Santa Barbara, ranked among the top 15 universities in the nation for alumni who have served in the Peace Corps since 1961.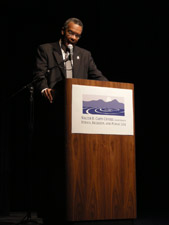 Director Williams, along with National Peace Corps Association President Kevin Quigley, was a featured speaker at the Walter H. Capps Center for the Study of Ethics, Religion, and Public Lifes discussion of The Future of International Service.
Fifty years since our founding, we honor our legacy not to retreat into history, but to renew our faith in the power of service to promote world friendship and peace, said Williams at the forum. Its a timeless idea, as vibrant today as it was half a century ago. The passion and the hope, the empathy and the enthusiasm what motivated volunteers in the 1960s still moves volunteers today.
The Walter H. Capps Center hosted Sundays discussion as part of a multi-part series of fall events to commemorate Peace Corps fiftieth anniversary. Previous events included a panel with returned Peace Corps volunteers whose lives and career paths had been shaped by their service, a film screening, and a multimedia exhibit in the UCSB library. The Santa Barbara Peace Corps Association collaborated closely with the center.
Immediately following the Capps Center event, Director Williams attended a reception with returned and prospective Peace Corps volunteers from UCSB and the Santa Barbara community. UCSB senior Jing Zhang was among the many motivated applicants the director spoke with at the reception. As someone who immigrated to the United States from China at the age of six, Zhang says that she is looking forward to the challenge of being placed in an environment outside of my comfort zone because the strength and adaptation skills she learned while adapting to her new life in America have prepared her well for what she will experience as a Peace Corps volunteer.
Historically, Zhang is part of a continuing legacy of volunteers from Santa Barbara. Thirty-eight UCSB alumni are currently serving as Peace Corps volunteers, placing it on Peace Corps annual Top Colleges and Universities report. UCSB graduates are working in 25 different countries, with the highest concentration in Guatemala (four) and the Dominican Republic (three). Since Peace Corps founding in 1961, more than 1,500 alumni have served in the Peace Corps.
About the Peace Corps:
President John F. Kennedy established the Peace Corps on March 1, 1961 by executive order. Peace Corps will commemorate 50 years of promoting peace and friendship around the world through 2011. Historically, more than 200,000 Americans have served with the Peace Corps to promote a better understanding between Americans and the people of 139 host countries. Today, 8,655 volunteers are working with local communities in 77 host countries. Peace Corps volunteers must be U.S. citizens and at least 18 years of age. Peace Corps service is a 27-month commitment.
# # #
---