FOR IMMEDIATE RELEASE:
Wednesday, November 15, 2006
Peace Corps Director Visits Jordan and Meets King Abdullah II
WASHINGTON, D.C., November 15, 2006 On his first overseas trip, newly-appointed Peace Corps Director Ron Tschetter arrived in Amman yesterday on a five-day official visit to the Hashemite Kingdom of Jordan and met His Majesty King Abdullah II and Her Majesty Queen Rania Al Abdullah.
Director Tschetter also met U.S. Ambassador David Hale, and will be spending the remainder of his time in Jordan meeting with government officials, and visiting with Peace Corps Volunteers around the country.
The Jordanian government and communities are strong supporters of the service that Peace Corps Volunteers provide for their country. In his meeting with King Abdullah, Director Tschetter said, "I am here to thank you and the Jordanian people for the strong support of Peace Corps Volunteers. The Peace Corps looks forward to continuing our friendship with your country and expanding the program in Jordan in the near future."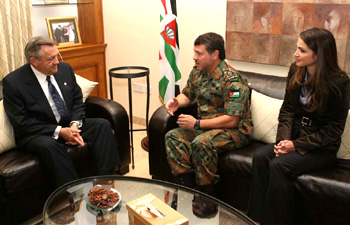 Director Tschetter discusses the Peace Corps program in Jordan with His Majesty King Abdullah II and Her Majesty Queen Rania Al Abdullah.
More than 300 Peace Corps Volunteers have served in Jordan, since the Hashemite Kingdom invited the Peace Corps in 1997. Currently 53 Peace Corps Volunteers are living and working in Jordan\'s rural communities, in the areas of youth development, teaching English as a foreign language, and participating in special education programs designed for the physically and mentally challenged.
Since 1961, more than 182,000 Peace Corps volunteers have served in 138 countries, working in such diverse fields as education, health and HIV/AIDS education, information technology, business development, the environment, and agriculture. Peace Corps volunteers must be U.S. citizens and at least 18 years of age. At the invitation of host governments, the Peace Corps sends Americans, who volunteer for 27-month assignments, to help countless individuals worldwide who want to build a better life for themselves, their children, and their communities. Today, more than 7,800 volunteers are currently serving in 75 countries, including Jordan. To learn more about Jordan, please visit the
Where Do Volunteers Go?
section.
# # #
---