FOR IMMEDIATE RELEASE:
Wednesday, April 16, 2008
Peace Corps Director Visits Guinea
CONAKRY, GUINEA, April 16, 2008 - Peace Corps Director Ron Tschetter wrapped up a tour in Guinea yesterday where he visited Peace Corps Volunteers and government officials, including Phillip Carter, the U.S. Ambassador to Guinea, and Abdoul Kabl Camara, the Guinean Minister of Foreign Affairs.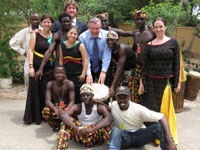 Director Tschetter visited Peace Corps Volunteers along the Atlantic coast of Guinea, where he witnessed the deep bonds of friendship the Volunteers have established with the people of Guinea. He also observed the success the Volunteers are having with their projects.
Director Tschetter met Volunteer Teale Hawley Walheim, of Calif., who works with Agro Peche, a 13,000 member cooperative of farmers, fishermen, and people in other trades. Hawley has launched an innovative and successful project to grow new varieties of vegetables with the farmers for both consumption and sale. According to the organizations General Coordinator, Yabirou Sylla, Hawley\'s work has "made a powerful impact on the community of farmers, and helped to further the cause of friendship with the United States."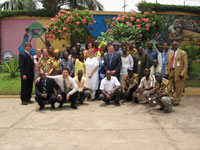 Director Tschetter also met with the Minister of Foreign Affairs, Abdoul Kabl Camara, who expressed his appreciation for the difference the Peace Corps is making in the lives of the people of Guinea. Director Tschetter thanked Minister Camara for his support of the partnership between the Peace Corps and Guinea, saying, "The Peace Corps is grateful to the Government of Guinea for their continued partnership and support. The Peace Corps is also thankful to the people of Guinea, especially for the warm welcome and the friendships they have formed with our Peace Corps Volunteers throughout the country."
The Director also had the opportunity to have a dinner in honor of a group of dedicated Volunteers who were among those who had to leave Guinea during a brief program suspension in February 2007 due to internal unrest. The Volunteers returned to the country in the fall of 2007 to complete their service.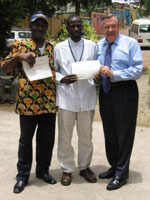 There are currently 46 Peace Corps Volunteers serving in Guinea in the areas of health, education, small business development, agriculture, forestry and the environment. To date, over 1,200 Volunteers have served during the 23-year history of the Peace Corps in Guinea.
The Peace Corps is celebrating a 47-year legacy of service at home and abroad. Currently there are more than 8,000 Volunteers abroad, a 37-year high for Volunteers in the field. Since 1961, more than 190,000 Volunteers have helped promote a better understanding between Americans and the people of the 139 countries where Volunteers have served, including Guinea. Peace Corps Volunteers must be U.S. citizens and at least 18 years of age. Peace Corps service is a 27-month commitment. To learn more about the Peace Corps, please visit our website: www.peacecorps.gov.
# # #
# # #
---