FOR IMMEDIATE RELEASE:
Friday, April 27, 2012
Peace Corps Director Visits 4 New York Universities; Promotes Benefits of Peace Corps Service
WASHINGTON, D.C., April 27, 2012 – Peace Corps Director Aaron S. Williams visited New York University, Columbia University, Hunter College and Stony Brook University during a three-day visit to New York to promote the importance of service and encourage students to consider Peace Corps service upon graduation. Currently, there are nearly 500 New Yorkers serving as Peace Corps volunteers in 75 countries around the world.

"For any student interested in making a difference overseas and changing a community at the grassroots level, Peace Corps service can open doors you never imagined," said Director Williams (returned Peace Corps volunteer, Dominican Republic, 1967-1970). "Students return from Peace Corps service as global citizens, equipped with tangible work and language skills that will serve them well in any career."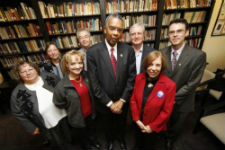 On Wednesday, April 25, Director Williams joined Michael Brown, co-founder and CEO of City Year and Gara LaMarche, former Atlantic Philanthropies CEO and President for a panel discussion on service as part of the Rudin Forum for Civic Dialogue at New York University's Reynolds Program in Social Entrepreneurship. In 2010, Peace Corps partnered for the first time with five of the largest AmeriCorps grantees, including City Year.

On Thursday, April 26, Director Williams addressed students and returned Peace Corps volunteers at Columbia University's School of International and Public Affairs. Later in the day, Director Williams also met with students and returned Peace Corps volunteers at Hunter College, one of the largest producers of Peace Corps volunteers in the City University of New York (CUNY) system.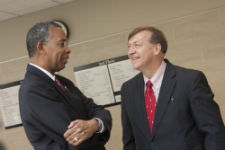 On the final stop of the visit on Friday, April 27, Director Williams spoke at Stony Brook University in Long Island. The visit to Stony Brook University marks the first time Director Williams has visited a State University of New York (SUNY) school since Peace Corps and SUNY signed a partnership allowing eligible SUNY graduate students to earn academic credit for two years of service through the Peace Corps Master's International program.The partnership, which is the first of its kind with a statewide university system, impacts current and future students enrolled in the 28 SUNY graduate schools.

Since 1961, nearly 13,000 New Yorkers have served with Peace Corps in 139 countries. To connect with a Peace Corps recruiter in the New York region, please visit the New York Regional Recruiting Office.

About the Peace Corps: Since President John F. Kennedy established the Peace Corps by executive order on March 1, 1961, more than 200,000 Americans have served in 139 host countries. Today, 9,095 volunteers are working with local communities in 75 host countries. Peace Corps volunteers must be U.S. citizens and at least 18 years of age. Peace Corps service is a 27-month commitment and the agency's mission is to promote world peace and friendship and a better understanding between Americans and people of other countries. Visit www.peacecorps.gov for more information.
# # #
---