FOR IMMEDIATE RELEASE:
Monday, June 8, 2015
Peace Corps Director Thanks Middle School Students for Supporting Girls' Education Worldwide
WASHINGTON, D.C., June 8, 2015 – On Friday, June 5, Peace Corps Director Carrie Hessler-Radelet was joined by U.S. Congressman Mark DeSaulnier (CA-11) to thank students at Stanley Middle School in Lafayette, California, for their support of Let Girls Learn and girls' education around the world. Students in the school's Global Relief Outreach club recently donated $1,500 that they raised by selling popsicles and hot chocolate during their lunchtime to the Let Girls Learn initiative and presented Director Hessler-Radelet with an additional $1,000 donation upon her arrival.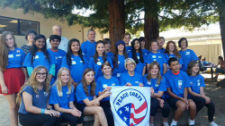 "One of my favorite parts of being Peace Corps Director is coming out to meet young people like you, who are truly making an impact in the world, much like our Peace Corps volunteers," Director Hessler-Radelet told students at Friday's event. "Because of your generous donation to Let Girls Learn, more girls will have the opportunity to go to school – forever changing their lives."
The middle school students submitted this letter to the Peace Corps along with their donation, which will support Peace Corps volunteer projects that help to expand access to girls' education worldwide.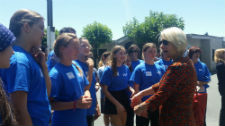 Launched in March by the President and First Lady, the Let Girls Learn collaboration between the Peace Corps and the White House brings increased focus, resources, and impact to the critical issue of girls' education, as more than 62 million girls around the world are not in school. Those interested in supporting Peace Corps volunteers as they implement community-based projects that address the barriers to girls' education can donate to Peace Corps' Let Girls Learn Giving Challenge. The agency aims to raise $500,000 by Sept. 30, 2015 through tax-deductible donations that will go toward projects related to girls' education and empowerment.
About the Peace Corps: The Peace Corps sends the best and brightest Americans abroad on behalf of the United States to tackle the most pressing needs of people around the world. Volunteers work at the grassroots level to develop sustainable solutions that address challenges in education, health, economic development, agriculture, environment and youth development. Through their service, volunteers gain a unique cultural understanding and a life-long commitment to service that positions them to succeed in today's global economy. Since President John F. Kennedy established the Peace Corps in 1961, nearly 220,000 Americans of all ages have served in 140 countries worldwide. For more information, visitwww.peacecorps.gov and follow us on Facebook and Twitter.
# # #
---