FOR IMMEDIATE RELEASE:
Wednesday, August 20, 2014
Peace Corps Director Swears in First Volunteers in Kosovo
WASHINGTON, D.C., August 20, 2014 – Peace Corps Director Carrie Hessler-Radelet today swore in the first-ever group of Peace Corps volunteers to serve in Kosovo during a ceremony in Pristina. Ceremony participants included the President of Kosovo Atifete Jahjaga; U.S. Ambassador to Kosovo Tracey Jacobson; Kosovo's Ambassador to the U.S. Akan Ismaili; Peace Corps Kosovo Country Director Stephen Kutzy; USAID Acting Mission Director Chris Edwards; and volunteers' host families and staff.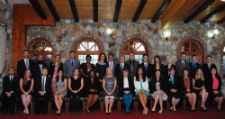 "Today, these extraordinary men and women begin their service in Peace Corps' 140th country of service," Director Hessler-Radelet said. "We are so proud to launch this new partnership in a country with such strong ties to the United States in this initiative that will connect forever the hearts of the people of Kosovo with the people of the United States."
"This day is a dream come true for me," Ambassador Jacobson said. "I am absolutely thrilled that Peace Corps is opening its 140th program here in Kosovo. The United States and Kosovo share an extremely close friendship, and I'm glad our cooperation has expanded even further to include one of my favorite programs."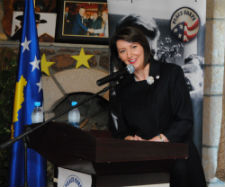 Since arriving in Kosovo in June, the 25 English education volunteers have received comprehensive cross-cultural, language and technical training to prepare them for their next 24 months of service. Following today's swearing-in ceremony, they will travel to their permanent Peace Corps sites where they will live and work with Kosovar counterparts to improve students' English-language skills and the effectiveness of English-language instruction.
"I want to congratulate both the Peace Corps and Kosovo on the establishment of the first class of Peace Corps volunteers in the country," said U.S. Rep. Eliot Engel (D-NY), Ranking Member of the House Committee on Foreign Affairs. "Not only will the Peace Corps promote Kosovo's prosperity and democratic development, but I know from my many visits that the people of Kosovo will offer the warmest of welcomes to the volunteers from the United States. The future is bright for Kosovo, and I'm glad that the Peace Corps will be on hand as the new nation continues on its path of success."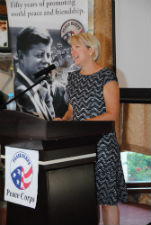 Peace Corps' program in Kosovo, first announced in September 2013, is a cooperative effort implemented through the partnership of Peace Corps staff and the Kosovar government. Volunteers in Kosovo enter a majority Muslim nation in the heart of Europe that has shown significant economic progress in recent years. Since the country gained independence in 2008, Kosovo has welcomed new partnerships with the U.S. government and other U.S. organizations.
"I feel like I've already formed an extremely tight bond with an amazingly talented and passionate group of people, including 24 other volunteers, and our incredible director and the fantastic staff," said newly sworn-in volunteer Vera Greene, whose parents met during Peace Corps service in Sierra Leone. "During my time in Kosovo I've realized something more acutely than I ever have before: kindness and hospitality are a universal language that can stretch to my next door neighbors in Nashua, New Hampshire, or 6,000 miles away in my new home."
About Peace Corps/Kosovo: The first group of volunteers arrived in Kosovo in June to teach secondary school English with a focus on improving students' English-language skills and the effectiveness of English-language instruction. During their service in Kosovo, volunteers will learn to speak Albanian. Kosovo is Peace Corps' 140th country of service, and the agency's first entry into a new country since opening a program in Cambodia in 2007.
About the Peace Corps: As the preeminent international service organization of the United States, the Peace Corps sends Americans abroad to tackle the most pressing needs of people around the world. Peace Corps volunteers work at the grassroots level with local governments, schools, communities, small businesses and entrepreneurs to develop sustainable solutions that address challenges in education, health, economic development, agriculture, environment and youth development. When they return home, volunteers bring their knowledge and experiences—and a global outlook—back to the United States that enriches the lives of those around them. President John F. Kennedy established the Peace Corps in 1961 to foster a better understanding among Americans and people of other countries. Since then, more than 215,000 Americans of all ages have served in 139 countries worldwide. Visit www.peacecorps.gov to learn more.
# # #
---