FOR IMMEDIATE RELEASE:
Wednesday, June 10, 2015
Peace Corps Director Returns to Samoan Community Where She Served as a Volunteer 32 Years Ago
Director Also Signs New Partnership to Address Climate Change in the Pacific
WASHINGTON, D.C., June 10, 2015 – Peace Corps Director Carrie Hessler-Radelet today returned, for the first time, to the Samoan community she served as a Peace Corps volunteer 32 years ago. Hessler-Radelet began her career in international development in the early 1980s as a Peace Corps volunteer in Samoa – then known as Western Samoa – where she taught secondary school English. From there, she went on to spend more than two decades working in public health before returning to the Peace Corps.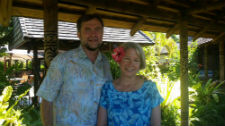 Hessler-Radelet visited with her host mother, Losa, who had a profound impact on her service and whose story she often shares, and toured the school where she taught as a volunteer.
"It is so wonderful to be back in Samoa, a place very close to my heart," Hessler-Radelet said after her visit. "Like so many Peace Corps volunteers, my service changed my life. It was here in Samoa that I found my passion for service and international development, and it was here that my career in public health was born. I can see so many positive changes to this island I called home."
Earlier in the day, Hessler-Radelet joined Director General of the Secretariat of the Pacific Regional Environmental Programme (SPREP) David Sheppard to sign a Memorandum of Understanding between the two organizations that will strengthen the region's response to climate change. Samoa is among the top 10 most vulnerable small islands in the South Pacific, according to the International Panel on Climate Change, and its population is ranked 6th in vulnerability to climate change risks.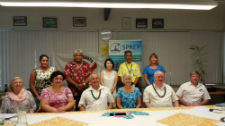 SPREP works to protect the environment and promote sustainable development across the Pacific region, and the new agreement will place Peace Corps Response volunteers at SPREP to help improve adaptation and resilience to climate change impacts in Pacific Island countries and territories. Volunteer assignments will range from six to 12 months and focus on biodiversity and ecosystem management, climate change, waste management and pollution control, and environmental monitoring and governance.
"Under President Obama's leadership, the United States is committed to supporting Climate-Resilient International Development, and at the Peace Corps, we are prepared to do our part," Hessler-Radelet said at the signing ceremony. "Together we will seek viable solutions; together we will build communities more resilient to the devastating impact of climate change."
During the remainder of the week, Hessler-Radelet will visit with Samoan officials and volunteers. Volunteers in Samoa learn to speak Samoan and work with their communities on education projects. More than 1,790 Peace Corps volunteers have served in Samoa since the program was established in 1967.
About the Peace Corps: The Peace Corps sends the best and brightest Americans abroad on behalf of the United States to tackle the most pressing needs of people around the world. Volunteers work at the grassroots level to develop sustainable solutions that address challenges in education, health, economic development, agriculture, environment and youth development. Through their service, volunteers gain a unique cultural understanding and a life-long commitment to service that positions them to succeed in today's global economy. Since President John F. Kennedy established the Peace Corps in 1961, nearly 220,000 Americans of all ages have served in 140 countries worldwide. For more information, visit www.peacecorps.gov and follow us on Facebook and Twitter.
# # #
---