FOR IMMEDIATE RELEASE:
Friday, May 31, 2019
Peace Corps Director recognizes returned Volunteers making a difference in D.C. Public Schools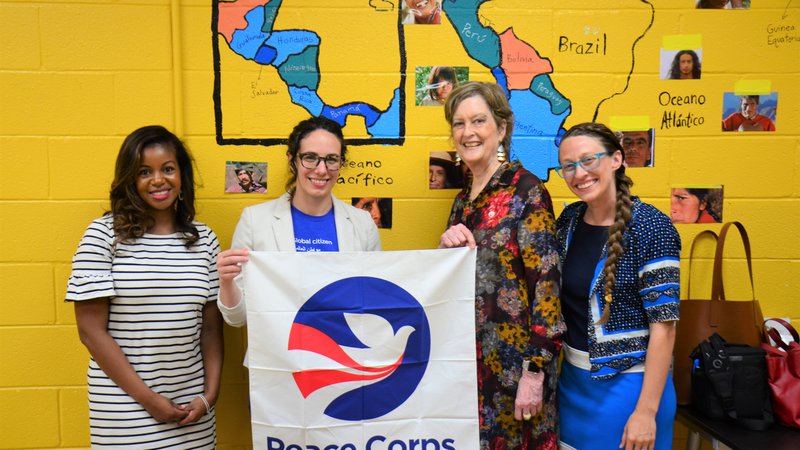 WASHINGTON – Peace Corps Director Jody Olsen met with representatives from the D.C. Public Schools Language Pathway Program (LEPP) at the West Education Campus last week to discuss the positive impact of returned Peace Corps volunteers in their local communities.
The meeting included Emily Clayton, a D.C. Public Schools teacher who returned from her Peace Corps service in Nicaragua in 2014.
As a fluent Spanish speaker with two years of experience living in Central America, Clayton finds she is able to easily connect through language and cultural understanding with her students, many of whom are first- or second-generation Americans.
"I've taken the experiences I had as a Peace Corps volunteer in Nicaragua and brought them back to my work in the D.C. Public Schools system," Clayton said. "As a teacher, there has been a direct correlation between the work I did during my service and the work I do now. Teaching without many resources and having flexibility and resiliency has prepared me and kept me grateful for what we have access to here in the United States."
D.C. Public Schools has collaborated with the Peace Corps for the LEPP program since 2016 with the purpose of connecting returned Volunteers to World Language and English Learner classrooms.
Educators selected for this program are given the opportunity to continue developing their professional skills and careers in education in the D.C. Public Schools system, which places a high value on global competence. This year, the LEPP program has seen its highest number of returned Peace Corps volunteers yet, with five individuals currently in the program pipeline.
"It excites me to see that the experiences Peace Corps volunteers are having in the field can be so relevant and easily translated to the career paths they take when they return home," said Director Olsen.
Also in attendance last week were Danielle Brooks, LEPP Teacher & Recruitment Pipeline Manager; Erika Pereira, LEPP Elementary English as a Second Language (ESL) Manager; and Katie Hamann, Program Specialist in the Peace Corps Office of Third Goal and Returned Volunteer Services.
Many returned Peace Corps volunteers bring the skills they learned during service back to their communities in the United States. To learn more about how returned volunteers can be involved in the LEPP program in D.C., visit their website or connect with the Peace Corps Office of Third Goal.
# # #
About the Peace Corps: The Peace Corps sends Americans with a passion for service abroad on behalf of the United States to work with communities and create lasting change. Volunteers develop sustainable solutions to address challenges in education, health, community economic development, agriculture, the environment and youth development. Through their Peace Corps experience, volunteers gain a unique cultural understanding and a life-long commitment to service that positions them to succeed in today's global economy. Since President John F. Kennedy established the Peace Corps in 1961, more than 235,000 Americans of all ages have served in 141 countries worldwide. For more information, visit peacecorps.gov and follow us on Facebook, Instagram and Twitter.
---