FOR IMMEDIATE RELEASE:
Wednesday, February 3, 2010
Peace Corps Director Meets With Kazakhstan Foreign Minister
Washington, D.C., February 3, 2010—Peace Corps Director Aaron S. Williams met with the Foreign Minister of Kazakhstan Kanat Saudabayev today. The two discussed Peace Corps\' current programs in Kazakhstan and opportunities for Peace Corps and Kazakhstan to expand their partnership.
This year, Peace Corps celebrates its 17-year anniversary of service in the Republic of Kazakhstan. Since 1993, more than 1,040 Americans have served in Kazakhstan with the Peace Corps.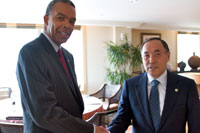 Currently, 165 Volunteers serve in Kazakhstan, working in Education and Organizational and Community Assistance programs.
As the Peace Corps approaches its 50th anniversary, its service legacy continues to promote peace and friendship around the world. Historically, nearly 200,000 Americans have served with the Peace Corps to promote a better understanding between Americans and the people of 139 host countries. Peace Corps Volunteers must be U.S. citizens and at least 18 years of age. Peace Corps service is a 27-month commitment. To learn more about the Peace Corps, please visit our website: www.peacecorps.gov.
# # #
---