FOR IMMEDIATE RELEASE:
Thursday, May 19, 2011
Peace Corps Director Leads Presidential Delegation to Paraguay
Washington, D.C., May 19, 2011 Peace Corps Director Aaron S. Williams led a Presidential Delegation on
May 13-15, 2011
to Asuncion, Paraguay to visit Peace Corps volunteers and to commemorate the Bicentennial of the Independence of the Republic of Paraguay and Peace Corps 50th anniversary.
During the official trip, the delegation visited the Cultural Community Center of Santa Ana, which was started by a Peace Corps volunteer in 2002. Today the center is supported by a Peace Corps volunteer who organizes environment, health, art, and sports programs for local youth.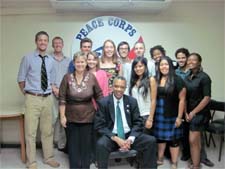 Its an honor to lead an official delegation visit to see the work of Peace Corps volunteers firsthand, said Directors Williams. Volunteers in Paraguay use cross-cultural and leadership skills to help communities grow and develop sustainable solutions.
The delegation also included U.S. Ambassador to Paraguay Liliana Ayalde and U.S. Assistant Secretary of State for Western Hemisphere Affairs Arturo Valenzuela.
About Peace Corps/Paraguay:
Nearly 3,480 Peace Corps volunteers have served in Paraguay since the program was established in 1967. Volunteers in this South American nation work in the areas of agriculture, community economic development, education, environment, health, and youth development. Currently, 235 volunteers are serving in Paraguay. Volunteers are trained and work in Guaran and Spanish.
About the Peace Corps:
President John F. Kennedy established the Peace Corps on March 1, 1961, by executive order. Throughout 2011, Peace Corps is commemorating 50 years of promoting peace and friendship around the world. Historically, more than 200,000 Americans have served with the Peace Corps to promote a better understanding between Americans and the people of 139 host countries. Today, 8,655 volunteers are working with local communities in 77 host countries. Peace Corps volunteers must be U.S. citizens and at least 18 years of age. Peace Corps service is a 27-month commitment. Visit www.peacecorps.gov for more information.
# # #
---