FOR IMMEDIATE RELEASE:
Friday, January 9, 2009
Peace Corps Director Leads Presidential Delegation To Ghana
Accra, Ghana, Jan. 9, 2009 - Peace Corps Director Ronald A. Tschetter led the United States Presidential Delegation to the African nation of Ghana earlier this week in recognition of the peaceful transition of power from former President John Kufuor to recently elected President John Atta Mills.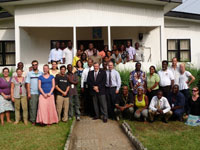 Director Tschetter was accompanied by Admiral R.Timothy Ziemer, the President\'s Malaria Initiative Coordinator, U.S. Ambassador to Ghana Donald Teitelbaum, and Peace Corps Africa Regional Director Henry McKoy. Director Tschetter met with outgoing President Kufuor, conveying President Bush\'s messages of gratitude for his role in assuring the peaceful transition of power during Ghana\'s recent elections. The Director said Ghana served as a "model for the rest of the world."
The Delegation attended a special session of Parliament to observe the election of the Speaker of Parliament. Director Tschetter and the Presidential Delegation met with incoming Ghanaian President John Atta Mills and his Vice-President John Mahama, during which he congratulated them on behalf of President Bush. During the meeting, Vice-President Mahama told Director Tschetter of the instrumental roles that Peace Corps Volunteers played in his education. Ghanaian President John Atta Mills asserted that many of todays Ghanaian leaders in business, industry, and government were positively influenced by Peace Corps Volunteers.
President Atta Mills is a former National Tax Commissioner who served as Vice President to Former Ghanaian president Jerry Rawlings. He is from Ghana\'s central region, and studied law at London\'s School of Oriental and African Studies, and at Stanford Law School in California as a Fulbright scholar.
While visiting Ghana, Director Tschetter and Mr. McKoy met with Peace Corps staff and Volunteers. The Volunteers they met with will complete their Peace Corps service later this month.
More than 4,000 Peace Corps Volunteers have served in Ghana since the program was established in 1961. Ghana was the first country in the world to receive Peace Corps Volunteers. Volunteers in this West African nation work in the areas of education, environmental and agricultural conservation, health and HIV/AIDS awareness, water sanitation and hygiene promotion, business development, and information technology. Other Volunteers incorporate unique educational techniques by teaching visual arts in sign language at schools for the deaf. Currently, 134 Volunteers are serving in Ghana.
As the Peace Corps approaches its 50th anniversary, its service legacy continues to promote peace and friendship around the world. Historically, over 195,000 Volunteers have helped promote a better understanding between Americans and the people of the 139 countries in which they have served, including Ghana. Applications to serve in the Peace Corps have increased 16 percent this past year, the largest boost in the last five years. Currently, 7,876 Peace Corps Volunteers are serving in 76 countries. Peace Corps Volunteers must be U.S. citizens and at least 18 years of age. Peace Corps service is a 27-month commitment. To learn more about the Peace Corps, please visit our website: www.peacecorps.gov.
# # #
# # #
---