FOR IMMEDIATE RELEASE:
Friday, January 16, 2015
Peace Corps Director Joins Staff for Day of Service in Honor of MLK's Birthday
WASHINGTON, D.C., Jan. 16, 2015 – Peace Corps Director Carrie Hessler-Radelet visited children at Barbara Chambers Children's Center in northwest D.C. this week for a day of service alongside Peace Corps staff in honor of Dr. Martin Luther King Jr.'s birthday. More than 110 U.S. staff members participated in a variety of service projects totaling nearly 830 hours of service throughout the day.
"We forge everlasting ties to our communities, to our country, and to one another through service," Director Hessler-Radelet said. "Whether we're talking about the Peace Corps, AmeriCorps, or volunteering at your church or local soup kitchen, service helps cultivate skills and qualities that can be difficult to measure, but are critical to long-term success."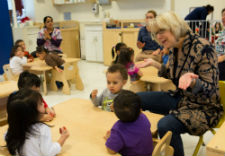 Hessler-Radelet and staff read bilingual books to toddlers and pre-K students at the Center, which was established in 1968 by an inter-racial group of parents and families who wanted a friendly place where their children could meet and learn together, despite racial tensions following Dr. King's assassination. Today, the Center serves low-income families in Washington, D.C., with bilingual programs in English and Spanish.
Service experience fosters cross-cultural, leadership and community development skills that give volunteers a competitive edge. In today's global economy, employers seek highly trained workers who can succeed among multicultural teams and excel in complex, ever-changing environments. Research by the Corporation for National and Community Service has found that people who are out of work and volunteer increase their odds of finding work by 27 percent in comparison to non-volunteers.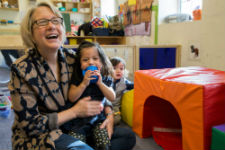 On Monday, Jan. 19, service activities will continue across the federal government and the country as Americans of all ages and backgrounds unite for the MLK Day of Service, led by the Corporation for National and Community Service. For more information, visit NationalService.gov.
About the Peace Corps: The Peace Corps sends the best and brightest Americans abroad on behalf of the United States to tackle the most pressing needs of people around the world. Volunteers work at the grassroots level to develop sustainable solutions that address challenges in education, health, economic development, agriculture, environment and youth development. Through their service, volunteers gain a unique cultural understanding and a life-long commitment to service that positions them to succeed in today's global economy. Since President John F. Kennedy established the Peace Corps in 1961, nearly 220,000 Americans of all ages have served in 140 countries worldwide. For more information, visit www.peacecorps.gov and follow us on Facebook and Twitter.
# # #
---