FOR IMMEDIATE RELEASE:
Friday, May 29, 2015
Peace Corps Director Joins Returned Volunteers to Mark President John F. Kennedy's Birthday at Arlington National Cemetery
WASHINGTON, D.C., May 29, 2015 – To mark what would have been President John F. Kennedy's 98th birthday, Peace Corps Director Carrie Hessler-Radelet today joined returned Peace Corps volunteers for a wreath laying ceremony at President Kennedy's memorial at Arlington National Cemetery. The ceremony has been organized by the Returned Peace Corps Volunteers of Washington, D.C. for the last 30 years.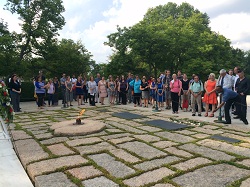 "The legacy of President Kennedy is all around us," Hessler-Radelet said at the ceremony. "It lives in every one of our nearly 7,000 Peace Corps volunteers serving around the world who are making a difference and changing lives."
The Peace Corps traces its roots and mission to 1960, when then-Senator Kennedy challenged students at the University of Michigan to serve their country in the cause of peace by living and working in developing countries. The Peace Corps was established a year later, and since then, nearly 220,000 American have answered President Kennedy's call to action by serving as Peace Corps volunteers across 140 countries.
While the agency's mission to promote world peace and friendship remains the same, more than 50 years after its founding, the Peace Corps is bridging the agency's founding ideals with the realities of modern times. Director Hessler-Radelet has led one of the most extensive reform efforts the agency has ever undertaken to create a culture of innovation and excellence. Most recently, she spearheaded historic reforms to Peace Corps' application and selection process, which led to a record-breaking number of applications in 2014. The agency has also stepped up its recruitment and outreach across underrepresented communities to grow the diversity of its volunteer force.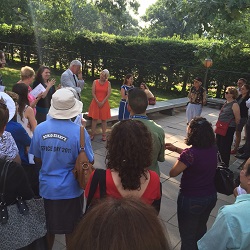 Service in the Peace Corps is an opportunity to make a difference and develop both personally and professionally while traveling to the farthest corners of the world. As a returned volunteer who comes from a four-generation Peace Corps family, Hessler-Radelet knows how profoundly service can change your life.
"When I served as a Peace Corps volunteer in Western Samoa, I found a passion for public health that shaped my entire career," she said. "Since then, Peace Corps has always been a family. My family. You are our brothers and sisters in service and friendship."
Peace Corps volunteers return home with cross-cultural, leadership, language, and community development skills that give them a competitive edge in today's global economy. The unique Peace Corps experience helps returned volunteers find success across a number of fields and industries, and many continue their service in their local communities.
About the Peace Corps: The Peace Corps sends the best and brightest Americans abroad on behalf of the United States to tackle the most pressing needs of people around the world. Volunteers work at the grassroots level to develop sustainable solutions that address challenges in education, health, economic development, agriculture, environment and youth development. Through their service, volunteers gain a unique cultural understanding and a life-long commitment to service that positions them to succeed in today's global economy. Since President John F. Kennedy established the Peace Corps in 1961, nearly 220,000 Americans of all ages have served in 140 countries worldwide. For more information, visit www.peacecorps.gov and follow us on Facebook and Twitter.
# # #
---