FOR IMMEDIATE RELEASE:
Tuesday, July 17, 2018
Peace Corps Director Jody Olsen, Members of Congress make the case for Peace Corps service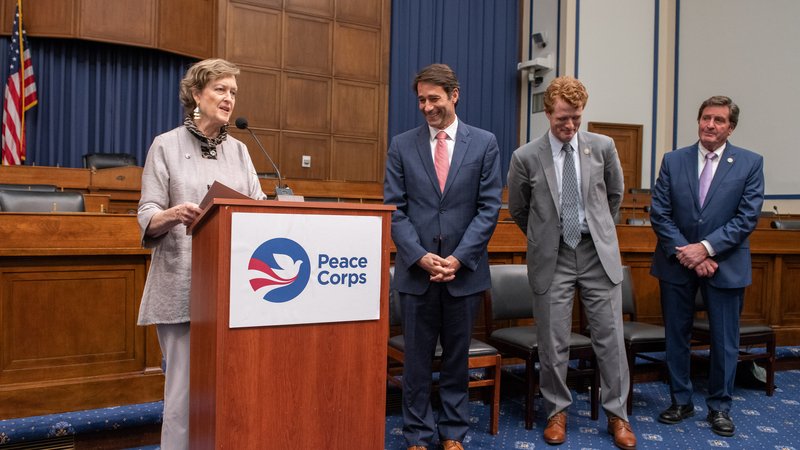 WASHINGTON – Peace Corps Director Jody Olsen joined Members of Congress for a recruitment event on Capitol Hill today, encouraging more than 100 Congressional staff and interns to consider serving in the Peace Corps.
Director Olsen, speaking in the House Transportation and Infrastructure Committee Hearing Room in the Rayburn House Office Building, recalled her experiences as a recent graduate volunteering in Tunisia.
"I discovered who I was in the face of challenges and circumstances that I had never known," she said. "I learned to listen to, respect, and honor people who were different than me. I learned about a way of life in North Africa that was unlike mine in Salt Lake City, Utah. I learned that regardless of differences, there was so much that connected us. I also learned what it meant to serve my country—to be part of something far, far greater than myself."
Congressmen John Garamendi (CA-3), Joseph Kennedy (MA-4), and Garret Graves (LA-6), co-chairs of the Congressional Peace Corps Caucus, also delivered remarks and took questions during the annual event.
Congressman Garamendi served in Peace Corps Ethiopia with his wife Patti.  Congressman Kennedy was a volunteer in the Dominican Republic. Congressman Graves, a longtime service leader in the South Louisiana community, has family members who are returned Peace Corps volunteers.
The Members of Congress emphasized the value of national service, the personal and professional development opportunities that Peace Corps offers, and the importance of the Peace Corps mission.
"If you want to have a good life, make it a life of service," said Congressman Garamendi, who returned to work in Ethiopia in the 1980s. "In the Peace Corps you learn peace, and you practice peace. You never move away from that."
"There's not a single day that goes by that I don't draw on my experience in the Peace Corps," said Congressman Kennedy, citing the problem solving and organizing skills he developed in the Dominican Republic. "It has been a profound impact on my life, and I wouldn't be here today without it."
"The Peace Corps is a phenomenal investment," said Congressman Graves, sending "ambassadors who work in other countries to help them learn who Americans really are."
# # #
About the Peace Corps: The Peace Corps sends Americans with a passion for service abroad on behalf of the United States to work with communities and create lasting change. Volunteers develop sustainable solutions to address challenges in education, health, community economic development, agriculture, environment and youth development. Through their Peace Corps experience, volunteers gain a unique cultural understanding and a life-long commitment to service that positions them to succeed in today's global economy. Since President John F. Kennedy established the Peace Corps in 1961, more than 230,000 Americans of all ages have served in 141 countries worldwide.
For more information, visit peacecorps.gov and follow us on Facebook and Twitter.
---