FOR IMMEDIATE RELEASE:
Tuesday, October 25, 2011
Peace Corps Director Honors Deaf Volunteers
Speaks at opening of Gallaudet University Museum exhibition on deaf Peace Corps volunteers
Washington, D.C., October 25, 2011 Peace Corps Director Aaron S. Williams honored the service of deaf and hard-of-hearing Peace Corps volunteers at the Gallaudet University Museum exhibition opening, Making a Difference: Deaf Peace Corps Volunteers, in Washington, D.C. The exhibition featured photographs and objects from deaf volunteers and shared the challenges and opportunities of deaf Peace Corps volunteers overseas.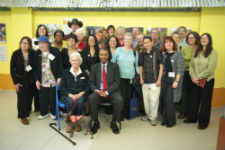 Im proud to celebrate and thank the deaf and hard-of-hearing men and women who served their country as Peace Corps volunteers, said Peace Corps Director Williams. Deaf volunteers in the early years of Peace Corps were pioneers and since then, many more have continued their legacy of service. Deaf volunteers have strengthened communities by building greenhouses and digging wells, promoting HIV awareness, and advocating for the rights of local deaf communities.

The exhibition featured volunteers who served in Benin, Ecuador, Ghana, Guyana, Kenya, Malaysia, Nepal, Philippines, Sierra Leone, St. Lucia, St. Vincent, and Zambia. It also shared the story of one of the first deaf Peace Corps volunteers: returned Peace Corps volunteer Pamela Jane Snethen who taught hearing high school students (Kenya, 1967-1970) and returned Peace Corps volunteer Daniel Blessing who taught deaf students (Ghana, 1969-1972). The exhibition at Gallaudets Weyerhauser Family Gallery and Exhibition Hall is free and open to the public through at least the end of 2012.

The experience of deaf Peace Corps volunteers reveal issues of access to education and perceptions of deaf people on an international scale, said Gallaudet University President T. Alan Hurwitz. Deaf Peace Corps volunteers serve as leaders in their assigned communities and as role models for deaf children. They push the boundaries and challenge assumptions of what deaf people can accomplish.

Nearly 60 deaf Americans have served with the Peace Corps to promote peace and friendship. Today, more than 8,600 volunteers work with local communities in 76 host countries worldwide. Volunteers work in agriculture; business and information and communication technology; education; health and HIV/AIDS; and youth and community development.

During the 2011 Smithsonian Folklife Festival on the National Mall this summer, deaf returned Peace Corps volunteers talked about their experience overseas. Visit Peace Corps on YouTube to watch the video.

On Oct. 26, 2011, Peace Corps headquarters in Washington, D.C., will host a National Disability Employment Awareness Month panel discussion featuring deaf returned Peace Corps volunteers Norma Morán (Kenya, 2000-2003) and Allie Rice (Kenya, 2006-2008).

About Gallaudet University: Gallaudet University, federally chartered in 1864, is a bilingual, diverse, multicultural institution of higher education that ensures the intellectual and professional advancement of deaf and hard of hearing individuals through American Sign Language and English. Gallaudet maintains a proud tradition of research and scholarly activity and prepares its graduates for career opportunities in a highly competitive, technological, and rapidly changing world.

About the Peace Corps: President John F. Kennedy established the Peace Corps on March 1, 1961, by executive order. Throughout 2011, Peace Corps is commemorating 50 years of promoting peace and friendship around the world. Historically, more than 200,000 Americans have served with the Peace Corps to promote a better understanding between Americans and the people of 139 host countries. Today, 8,655 volunteers are working with local communities in 76 host countries. Peace Corps volunteers must be U.S. citizens and at least 18 years of age. Peace Corps service is a 27-month commitment. Visit www.peacecorps.gov for more information.
# # #
---