FOR IMMEDIATE RELEASE:
Monday, June 13, 2011
Peace Corps Director Delivers Commencement Address at UCLA and Monterey Institute of International Studies
Peace Corps Chief of Staff speaks at Duke University
Washington, D.C., June 13, 2011 Peace Corps Director Aaron S. Williams and Peace Corps Chief of Staff Stacy Rhodes delivered the commencement address at three universities with strong ties to the Peace Corps: University of California, Los Angeles (UCLA), Monterey Institute of International Studies, and Duke University. Director Williams and Chief of Staff Rhodes challenged graduates to answer President Obamas call to service and consider Peace Corps service after graduation.
The Peace Corps is proud to have strong connections at thousands of college campuses across the country that help prepare and inspire the next generation of Peace Corps volunteers, said Peace Corps Director Williams. For recent college graduates and Americans of all ages, Peace Corps service is a life-defining leadership opportunity that can help launch a career and make a difference in the lives of countless people.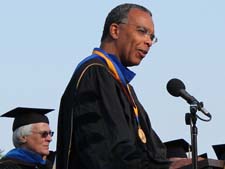 UCLA, Los Angeles, Calif.
On June 10, Director Williams delivered the keynote address to approximately 4,000 graduating students at UCLA. During the 1960s, UCLAs Westwood campus was one of Peace Corps original training sites, eventually training more than 2,000 Peace Corps volunteers for service in Africa and Latin. Today, there are 92 UCLA alumni currently serving overseas. Over the last 50 years, more than 1,800 UCLA graduates have served in the Peace Corps.
In March 2, UCLA hosted a multi-day series of events to commemorate Peace Corps 50th anniversary, which included a service project, international festival, exhibit, and a
panel discussion
featuring Director Williams and moderated by returned Peace Corps volunteer Chris Matthews (Swaziland 1968-70).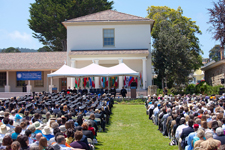 Monterey Institute of International Studies, Middlebury College, Monterey, Calif.
On May 21, Peace Corps Director Williams spoke to 247 graduating students from the Monterey Institute of International Studies (MIIS), a graduate school of Middlebury College. Thirteen members of the graduating class have served as Peace Corps volunteers.
MIIS participates in
Peace Corps Masters International program
, a program for students to earn a masters degree while serving with the Peace Corps. This year, MIIS ranks as the nations fourth largest Peace Corps Masters International program with 21 enrolled students currently serving. There have been 59 MIIS graduates who have completed the Peace Corps Masters International program.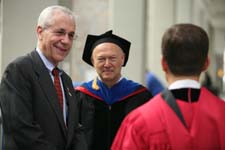 Sanford School of Public Policy, Duke University, Durham, N.C.
On May 14, Chief of Staff Rhodes was the featured alumnus speaker at Duke Universitys Sanford School of Public Policy commencement ceremony. Rhodes, who earned his Masters in International Development Policy at the school in 1991, spoke to 78 graduates.
The Sanford School has a proud tradition of producing individuals committed to service in various forms. We see in its graduates the energetic drivers of bold ideas determined to make their mark on the world as leaders for peace and progress, said Rhodes.
Today, there are 21 Duke University alumni serving as Peace Corps volunteers and since 1961, 649 have served in the Peace Corps.
About the Peace Corps:
President John F. Kennedy established the Peace Corps on March 1, 1961, by executive order. Throughout 2011, Peace Corps is commemorating 50 years of promoting peace and friendship around the world. Historically, more than 200,000 Americans have served with the Peace Corps to promote a better understanding between Americans and the people of 139 host countries. Today, 8,655 volunteers are working with local communities in 77 host countries. Peace Corps volunteers must be U.S. citizens and at least 18 years of age. Peace Corps service is a 27-month commitment. Visit www.peacecorps.gov for more information.
# # #
---