FOR IMMEDIATE RELEASE:
Monday, September 12, 2016
Peace Corps Director Celebrates National Park Service Centennial at National Mall and Memorial Parks
WASHINGTON, D.C., September 12, 2016 – Last month Peace Corps Director Carrie Hessler-Radelet toured the National Mall and Memorial Parks to celebrate the 100th anniversary of the National Park Service. She was joined by 11 returned Peace Corps volunteers who now work with the National Park Service.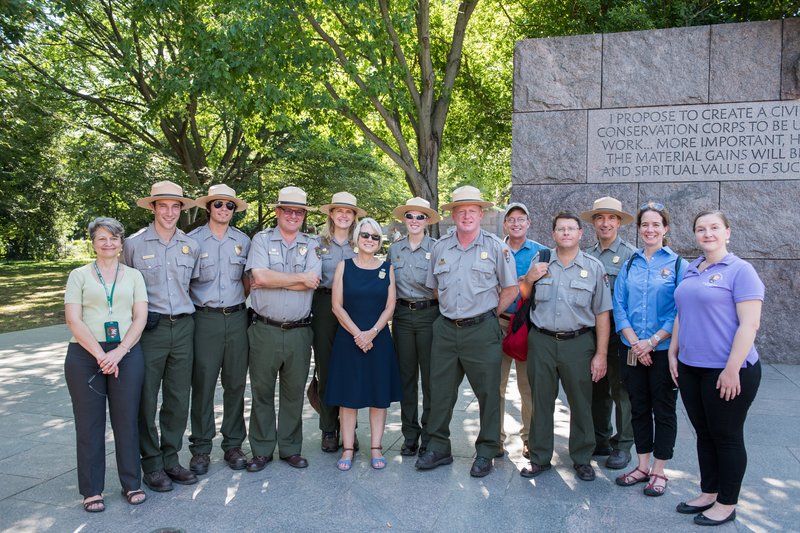 The tour of the Lincoln Memorial, Martin Luther King, Jr. Memorial and Franklin Delano Roosevelt Memorial featured historical presentations by National Mall Park Rangers that served in Peace Corps in Peru, Mongolia and China respectively. Throughout the tour, the Rangers commented on the themes of service and equality depicted at the memorials and the similarities to Peace Corps' mission of world peace and friendship.
"What a privilege it is to celebrate the National Park Service Centennial at the National Mall, a place that honors so beautifully our nation's history and highest ideals," said Director Hessler-Radelet. "As a person who spends a lot of time on national park land as a private citizen, I feel indebted on a daily basis to those who came before us for the great gift they gave us in our national park system.
"The Peace Corps and the National Park Service share a commitment to preserving the environment and culture of our nation.  It was a special treat to have a tour of the National Mall by returned Peace Corps volunteers who now work for the National Park Service and I am grateful to all National Park Service employees for their dedication to serving our country and preserving its natural beauty."
As part of the tour, Director Hessler-Radelet recited the ranger motto and was awarded a junior ranger badge.
# # #
About the Peace Corps: The Peace Corps sends the best and brightest Americans abroad on behalf of the United States to tackle the most pressing needs of people around the world. Volunteers work at the grassroots level to develop sustainable solutions that address challenges in education, health, economic development, agriculture, environment and youth development. Through their service, volunteers gain a unique cultural understanding and a life-long commitment to service that positions them to succeed in today's global economy. Since President John F. Kennedy established the Peace Corps in 1961, nearly 220,000 Americans of all ages have served in 140 countries worldwide. For more information, visit peacecorps.gov and follow us on Facebook and Twitter.
---