FOR IMMEDIATE RELEASE:
Friday, February 6, 2015
Peace Corps Director Carrie Hessler-Radelet Meets with Eight Former Agency Directors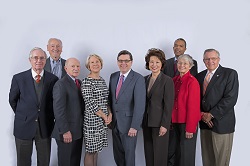 WASHINGTON, D.C., Feb. 6, 2015 – Peace Corps Director Carrie Hessler-Radelet met with eight former agency directors at Peace Corps headquarters on Thursday for a day of reconnection and strategic planning.
Former Peace Corps directors in attendance included: Nick Craw (1973-74); Richard Celeste (1979-81); Mark Gearan (1995-99); Secretary Elaine Chao (1991-92); Carol Bellamy (1993-95); Mark Schneider (1999-01); Ronald Tschetter (2006-09); and Aaron Williams (2009-12).
"We want to share with you some of the current priority areas that we believe reflect our institutional commitment to creativity and innovation," Hessler-Radelet said. "We also want to explore the leadership role the Peace Corps can play domestically and internationally as we move forward in this ever-changing and diverse, interdependent world."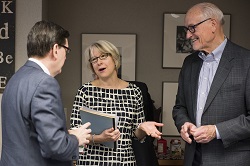 Former Director Bellamy was appointed by President Clinton and was the first returned Peace Corps volunteer to serve as Director, having completed her volunteer service in Guatemala from 1963-65.
"I think what is impressive about the Peace Corps is that the agency is really thinking about the future and looking forward," Bellamy said. "I think it's very important that Peace Corps as an agency is using the same innovative tools that volunteers in the field use."
Former Director Williams, who served as a Peace Corps volunteer in the Dominican Republic from 1967-70, oversaw the historic re-opening of Peace Corps programs in Colombia, Sierra Leone, and Indonesia.
"I think this is a historic moment," said Williams, who served as Director from 2009 to 2012. "We all are committed and loyal to the Peace Corps. We all see our tenure as directors of the Peace Corps as being a very important part of our career and our contribution to America. So it's just a wonderful day"
About the Peace Corps: The Peace Corps sends the best and brightest Americans abroad on behalf of the United States to tackle the most pressing needs of people around the world. Volunteers work at the grassroots level to develop sustainable solutions that address challenges in education, health, economic development, agriculture, environment and youth development. Through their service, volunteers gain a unique cultural understanding and a life-long commitment to service that positions them to succeed in today's global economy. Since President John F. Kennedy established the Peace Corps in 1961, nearly 220,000 Americans of all ages have served in 140 countries worldwide. For more information, visit www.peacecorps.gov and follow us on Facebook and Twitter.
###
# # #
---