FOR IMMEDIATE RELEASE:
Monday, June 20, 2011
Peace Corps Director and VSO Chief Executive Officer Discuss New Partnership
WASHINGTON, D.C., June 20, 2011 Peace Corps Director Aaron S. Williams and Volunteer Service Overseas (VSO) Chief Executive Officer Marg Mayne met in London on
June 20, 2011
to discuss strategies on how VSO and Peace Corps volunteers can continue fighting poverty and create sustainable solutions to many of the challenges faced by communities around the world. The meeting was a follow-up to the announcement by President Barack Obama and Prime Minister David Cameron of a new partnership between two of the worlds leading volunteer organizations during President Obamas state visit to London in late May.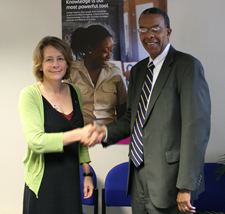 This innovative partnership will enhance the impact and effectiveness of both Peace Corps and VSO, said Director Williams. Today we discussed how we can most effectively share best practices in programming and training, monitoring and evaluation, and strengthen our united efforts to combat global poverty. We are proud that President Obama and Prime Minister Cameron recognize the contributions our volunteers are making around the world with local communities.
For more than 50 years, Peace Corps and VSO have been the leading U.K. and U.S. organizations fighting global poverty through service. Collectively, they have 10,000 international volunteers working in 95 countries and a combined network of more than 250,000 returned volunteers. Each organization works in complementary ways, providing opportunities to work together that will enhance our effectiveness in transforming lives across the world.
This is a major step forward for VSO and our transatlantic friends, Peace Corps, said VSO Chief Executive Officer Mayne. We both have a shared commitment, experience and expertise to engaging people in the fight against poverty. Peace Corps and VSO will support each others efforts to develop volunteer programs that are more effective in engaging poor communities in shaping their own future. In our meeting today we discussed how to increase the reach of our programmes in areas such as education, health, HIV/AIDS, youth development and gender. Our valued volunteers will continue to work alongside poor communities and local partners on key development priorities, as well as support them in building a lasting legacy of local volunteer networks.
Peace Corps and VSO have worked together informally for more than a decade. The partnership will also see organizational learning on recruitment, training, and other support functions.
A
joint fact sheet
on the partnership announcement is available through the White House and the 10 Downing Street website.
About VSO:
As a leading international development charity, VSO last year assisted 26 million people in reducing poverty. Since 1958 more than 44,000 volunteers have worked in more than 120 countries. Today there are over 1600 international volunteers working in 42 countries around the world.
About the Peace Corps:
President John F. Kennedy established the Peace Corps on March 1, 1961, by executive order. Throughout 2011, Peace Corps is commemorating 50 years of promoting peace and friendship around the world. Historically, more than 200,000 Americans have served with the Peace Corps to promote a better understanding between Americans and the people of 139 host countries. Today, 8,655 volunteers are working with local communities in 77 host countries. Peace Corps volunteers must be U.S. citizens and at least 18 years of age. Peace Corps service is a 27-month commitment. Visit www.peacecorps.gov for more information.
# # #
---