FOR IMMEDIATE RELEASE:
Wednesday, July 21, 2010
Peace Corps Director Aaron S. Williams Visits Macedonia
WASHINGTON, D.C., July 21, 2010 Peace Corps Director Aaron S. Williams visited Macedonia July 11-15 for a regional Peace Corps country directors conference and met in Ohrid with Macedonia President Gjorge Ivanov. Peace Corps/Macedonia Country Director Stephen Kutzy and U.S. Ambassador Philip Reeker joined Director Williams at Villa Biljana for the presidential meeting.
President Ivanov expressed his appreciation for Peace Corps volunteers and their efforts to promote friendship and cooperation between the American people with the Republic of Macedonia. President Ivanov also announced his intent to honor the Peace Corps with the Order of Merit of the 8th of September on the occasion of its 50th anniversary in 2011 and the 15th anniversary of the Peace Corps/Macedonia program.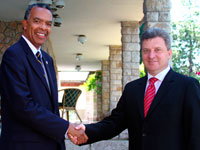 "It is my great honor to accept the award recognizing the strong partnership between our Peace Corps volunteers and the people of Macedonia, said Director Williams. The Peace Corps was founded to promote world peace and friendship in 1961 and the work we are doing with the communities of Macedonia today truly represents President Kennedy\'s vision for public service."
In Skopje, Director Williams met with Minister of Education Nikola Todorov and Minister of Self-Government Musa Xhaferi. He thanked both ministries for their support.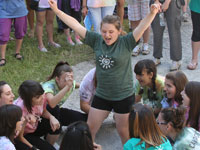 Director Williams and Kutzy also had the opportunity to visit a Camp GLOW (Girls Leading Our World), which was organized by 16 Peace Corps volunteers who served as counselors for an ethnically and culturally diverse group of young women ranging in age from 14 to 18. Established in Macedonia in 2000, Camp GLOW helps young women to develop leadership skills, improve their self-esteem, increase their knowledge of womens health issues, and underscore the importance of respecting and caring for the environment. The project in Macedonia is supported by Youthink, the U.S. Embassy in Skopje, and the Peace Corps Partnership Program.
In addition to Camp GLOW volunteers, the director met with Karen Schaan of North Dakota, a third-year extension volunteer who briefed him on her work with the Ohrid Red Cross and introduced him to her colleagues. While in Macedonia, she has helped computerize an English library and started an English language story hour for local children. Also serving in the Ohrid area are volunteers Benson Siwek of Texas, David Koch, and Adam Pollack. Koch and Pollack are both residents of Silver Spring, Maryland. They had not seen each other since middle school, but were reunited 12 years later in Macedonia, each being placed in the southwest corner of the country.
Peace Corps/Macedonia volunteers, ranging in age from 23 to 79, are working on a wide variety of projects related to community development and English education. The Peace Corps began operating in Macedonia in 1996 with a group of seven volunteers. Today, 68 Americans serve the country as Peace Corps volunteers. Since 1996, nearly 400 volunteers have served in these two key program areas in the Republic of Macedonia.
As Peace Corps approaches its 50th anniversary, its service legacy continues to promote peace and friendship around the world, with 7,671 volunteers serving in 77 host countries. Historically, nearly 200,000 Americans have served with the Peace Corps to promote a better understanding between Americans and the people of 139 host countries. Peace Corps volunteers must be U.S. citizens and at least 18 years of age. Peace Corps service is a 27-month commitment.
# # #
# # #
---