FOR IMMEDIATE RELEASE:
Tuesday, April 20, 2010
Peace Corps Director Aaron S. Williams Visits Jordan
Director Williams met with Prince bin Al Hussein and Ministry of Education to Renew Partnership Agreement
WASHINGTON, D.C., April 20, 2010 Peace Corps Director Aaron S. Williams visited Jordan for the first time as Director last week, emphasizing the strong partnership between Jordan and Peace Corps.
Director Williams met with Prince Faisal bin Al Hussein and Jordanian government officials, including the Minister of Education, Ibrahim Badran, the Minister of Social Development, Dr. Hala Bsaysu Lattouf, and the President of the Higher Council for Youth, Ahmad Al-Masarweh.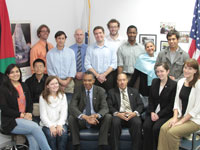 "Peace Corps Volunteers arrive in Jordan as informal ambassadors for the United States. After two years of living in cooperation with Jordanian communities, they return to the United States as informal ambassadors for Jordan, said Director Williams. Our partnership with Jordan is based on the principles of collaboration, goodwill and respect. This friendship encourages Americans and Jordanians to work side by side on education and youth initiatives while advancing a greater understanding of both countries on the part of all involved with our historic service program.
Peace Corps/Jordans programs were developed in close cooperation with Jordanian partners the Ministries of Social Development and Education and the Higher Council for Youth. Director Williams met with a dozen Jordanian journalists to discuss the impact of Peace Corps/Jordan on the development aims of these partners. Volunteers are working in over 80 communities throughout Jordan. At the press conference, three volunteers joined Director Williams to represent the work of the 60 Americans currently serving in local communities. The Volunteers conducted the interviews in both English and fluent Arabic. The press conference is detailed here.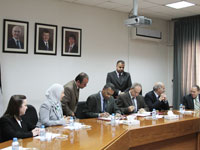 While meeting with Minister of Education Badran, Director Williams signed a renewal of a previous partnership agreement that enhances Peace Corps English language programs in public school classrooms throughout Jordan and focuses on schools in rural communities. Director Williams also visited the Jordanian Ministry of Social Development, the Higher Council for Youth, Al al-Bayt University, U.S. Embassy Amman, USAID, and the Arab Medical Center.
In addition to meeting with volunteers in Amman, Director Williams and Country Director Alex Boston traveled to Irbid and Mafraq Governorates to meet Peace Corps/Jordan volunteers and their Jordanian counterparts.
Volunteers shared their experiences with Director Williams and highlighted successful programs including a recent English Spelling Bee that was organized for 60 female students ranging from the seventh to tenth grade. The event was held at Jordan University for Science and Technology and was the first of its kind implemented in the country.
Peace Corps/Jordan volunteers, ranging in age from 21 to 68, are working on a wide variety of projects related to youth development and English education as well as special education programs that support physically and mentally challenged students. Since the first Volunteers arrived in 1997, at the invitation of King Hussein, over 400 Americans have served with Peace Corps/Jordan.
As Peace Corps approaches its 50th anniversary, its service legacy continues to promote peace and friendship around the world with 7,671 volunteers serving in 76 host countries. Historically, nearly 200,000 Americans have served with the Peace Corps to promote a better understanding between Americans and the people of 139 host countries. Peace Corps volunteers must be U.S. citizens and at least 18 years of age. Peace Corps service is a 27-month commitment.
# # #
# # #
---