FOR IMMEDIATE RELEASE:
Monday, May 16, 2011
Peace Corps Deputy Director Delivers Commencement Address at St. Marys College of Maryland
WASHINGTON, D.C., May 16, 2011 Peace Corps Deputy Director Carrie Hessler-Radelet delivered the keynote address at St. Marys College of Maryland commencement on
May 14, 2011
in St. Marys City, Md. where she spoke to the graduating class of 466 students. An honorary degree was also awarded posthumously to Peace Corps founding Director Sargent Shriver. The award was accepted by returned Peace Corps volunteer Joe Kennedy III (Dominican Republic, 2004-2006), whose great uncle, President John F. Kennedy, founded the agency in 1961.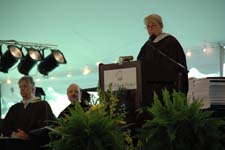 St. Marys has a deep tradition of public service and volunteering and it is an honor to address the graduating class and next generation of leaders, said Peace Corps Deputy Director Hessler-Radelet who served as a volunteer in Western Samoa from 1981 to 1983. Peace Corps service is an opportunity to challenge yourself, build meaningful relationships with people in your country of service, and make a difference in someones life.
Deputy Director Hessler-Radelets full speech can be read
here
.
There are 18 Peace Corps volunteers who are also St. Marys alumni currently serving around the world.
About the Peace Corps:
President John F. Kennedy established the Peace Corps on March 1, 1961, by executive order. Throughout 2011, Peace Corps is commemorating 50 years of promoting peace and friendship around the world. Historically, more than 200,000 Americans have served with the Peace Corps to promote a better understanding between Americans and the people of 139 host countries. Today, 8,655 volunteers are working with local communities in 77 host countries. Peace Corps volunteers must be U.S. citizens and at least 18 years of age. Peace Corps service is a 27-month commitment. Visit www.peacecorps.gov for more information.
# # #
---