FOR IMMEDIATE RELEASE:
Thursday, November 29, 2012
Peace Corps Commemorates World AIDS Day 2012
WASHINGTON, D.C., November 29, 2012 – Peace Corps volunteers and staff join communities worldwide in commemorating World AIDS Day 2012. Nearly 40 percent of Peace Corps volunteers conduct HIV-related activities as part of their primary or secondary project work, and more than half of all volunteers work on an HIV/AIDS-related project regardless of their assignment area.

"Peace Corps volunteers across the globe lead community efforts in the fight against HIV/AIDS," said Acting Peace Corps Director Carrie Hessler-Radelet (RPCV Samoa, 1981-1983). "Volunteers work with community members at the grassroots level to implement initiatives in prevention, care and support. Volunteer-driven projects such as educational workshops and community health campaigns are on the front lines to combat HIV/AIDS."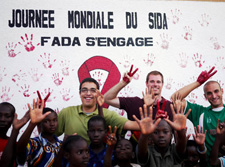 Peace Corps trains volunteers to be effective advocates and educators on HIV/AIDS prevention and care topics. Peace Corps is a key partner and implementer of the President's Emergency Plan for AIDS Relief (PEPFAR), which provides assistance to countries most affected by the HIV/AIDS pandemic.

To commemorate World AIDS Day 2012, Peace Corps is hosting an event at the Washington, D.C., headquarters with Acting Director Hessler-Radelet, Cameron Price (RPCV Swaziland, 2009-2012) and Daniel Enger, the International Coordinator for Global Dialogues. In partnership with Peace Corps, Global Dialogues will hold an HIV/AIDS film contest for young people around the world from December 1, 2012, through April 1, 2013.
In 2012, Peace Corps also held the Peace Corps AIDS-Free Generation Photo Contest during which current and returned Peace Corps volunteers and Peace Corps staff submitted more than 500 photo entries. To view the winning photos from the photo contest, click here.
In addition, Peace Corps, PEPFAR and the non-profit Global Health Service Corps launched the Global Health Service Partnership (GHSP) to place medical professionals as faculty in medical or nursing schools in Africa to addresses other nations' shortage of health professionals, which impacts the care of populations with HIV/AIDS.
Recent examples of HIV/AIDS education and prevention projects by Peace Corps volunteers include:
Burkina Faso
Peace Corps volunteer Scott Worthington of San Francisco, Calif., painted an educational mural at the local youth center to promote HIV/AIDS awareness. Once the mural was finished, more than 130 community members attended information sessions on HIV awareness and prevention and added their handprints to the mural as a pledge to educate others and promote healthy lifestyle choices.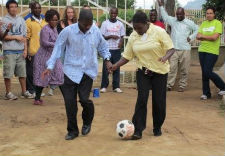 Nicaragua
Peace Corps volunteers Kelli Stam of Brevard, N.C., Elizabeth Malenk of Alameda, Calif., and Gregory Purifoy of Evans City, Pa., are working with their community to revitalize a temporary home for pregnant women in Nicaragua. Last year, the temporary home, "Casa Materna," housed more than 350 women with high-risk pregnancies or who did not have immediate access to a health facility to give birth. In addition to improving infrastructure, the volunteers educate expectant mothers on HIV/AIDS awareness and maternal and child health.
Tanzania
Ten Peace Corps volunteers and 20 local Tanzanians organized soccer practices and HIV prevention training in collaboration with Grassroot Soccer, an organization that uses soccer to teach HIV/AIDS prevention. During the five-day seminar, each Peace Corps volunteer and two community members teamed up to learn Grassroot Soccer's Zinduka curriculum, which includes games and other soccer activities. Zinduka, which means "rise up" in Swahili, is designed to educate about HIV transmission and teach life skills to youth. All sessions were conducted in both in Swahili and English.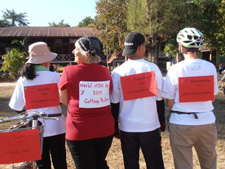 Thailand
Peace Corps volunteer Anita Root of Grand Rapids, Minn., organized a bike ride with members of her Thai community to raise awareness about HIV/AIDS. Participants made signs in English and Thai with information about healthy lifestyle choices and put the signs on their backs or bikes. Root led the way through four villages, picking up more participants at each stop, and by the end of the day more than 120 children and adults had joined the group.
About the Peace Corps: Since President John F. Kennedy established the Peace Corps by executive order on March 1, 1961, more than 210,000 Americans have served in 139 host countries. Today, 8,073 volunteers are working with local communities in 76 host countries in agriculture, community economic development, education, environment, health and youth in development. Peace Corps volunteers must be U.S. citizens and at least 18 years of age. Peace Corps service is a 27-month commitment and the agency's mission is to promote world peace and friendship and a better understanding between Americans and people of other countries. Visit www.peacecorps.gov for more information.
# # #
---