FOR IMMEDIATE RELEASE:
Thursday, December 1, 2011
Peace Corps Commemorates World AIDS Day 2011
WASHINGTON, D.C., Dec. 1, 2011 The Peace Corps joins communities around the world in commemorating World AIDS Day 2011. Nearly 40 percent of Peace Corps volunteers conduct HIV-related activities as part of their primary or secondary project work.
As Peace Corps commemorates its 50th anniversary and we think back to 30 years ago since the announcement of the AIDS epidemic, we reflect on how Peace Corps history is closely intertwined with the epidemic that has claimed tens of millions of lives, said Peace Corps Director Aaron S. Williams (Dominican Republic, 1967-1970). Peace Corps volunteers continue to work at the grassroots level to raise awareness about HIV and support communities and families in prevention efforts around the world.
To commemorate World AIDS Day 2011, the Peace Corps hosted an event at the Washington, D.C. headquarters with Sandra Thurman, former director of the White House Office of National AIDS Policy from 1997 to2000 and the first Presidential Envoy for Global AIDS.
Peace Corps volunteers work with communities affected by HIV/AIDS by teaching nutrition, prevention techniques and educating at-risk populations. Volunteers also work with community and nongovernmental organizations to create and develop grassroots prevention and awareness campaigns. Much of Peace Corps response to HIV is made possible by the U.S. Presidents Emergency Plan for AIDS Relief (PEPFAR), a program that provides assistance to countries most affected by the HIV/AIDS pandemic.
Following are examples of HIV/AIDS education and prevention projects by Peace Corps volunteers: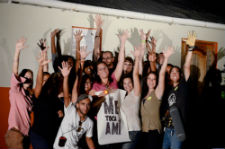 DOMINICAN REPUBLIC
Peace Corps/Dominican Republic volunteers Dave Richie of Bethel Park, Pa., Elisa Paltenghe of Spirit Lake, Idaho, and Jean Erickson of Wallingford, Pa., are helping write and produce Mi Toca A Mi, a 10-episode soap opera style television show designed to educate young people about HIV/AIDS prevention and promote positive self-esteem and healthy life choices. Sixteen Peace Corps volunteers and more than 25 students participated in the filming of the first three episodes in October. Volunteers are currently editing the footage and plan to film the next three episodes in January 2012.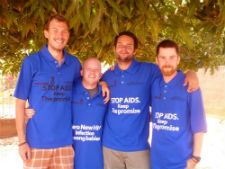 THE GAMBIA
Peace Corps volunteer Devin Wilcox-McCombs of Taylorsville, Calif., organized a regional soccer tournament for 120 men in July. Before the tournament, Wilcox-McCombs facilitated a half-day training on HIV prevention for the players and coaches and encouraged them to get tested for HIV. The events were funded through a PEPFAR grant.
KENYA
Peace Corps volunteers Whitney Parsons of Tulsa, Okla., Lorenzo Nava of Albuquerque, N.M., Rohan Agarwal of Clarksburg, Md., and Christine Boyer of Salem, Ore., helped organize and lead GLOW (Girls Leading Our World) Camps to promote leadership skills and empower young women, including those who are deaf. During the two GLOW Camps held in Kilifi and Kisumu earlier this year, more than 130 Kenyan girls learned about HIV/AIDS prevention, sexual and reproductive health, and gender equity. The girls also learned about career development from professional women who shared their personal stories and encouraged them to pursue higher education and further their careers.
In October 2011, the GLOW Camps receive a second place Millennium Development Goals Award for its effort to combat AIDS in Kenya. The award is sponsored by the United Nations Department Programme in Kenya, Ministry of State for Planning, National Development and Vision 2030, Millennium Development Goals Trust Fund and the Government of Finland.
To view the Peace Corps World AIDS Day 2011 photoset on Flickr, click
here
.
About the Peace Corps:
President John F. Kennedy established the Peace Corps on March 1, 1961, by executive order. Throughout 2011, Peace Corps is commemorating 50 years of promoting peace and friendship around the world. Historically, more than 200,000 Americans have served with the Peace Corps to promote a better understanding between Americans and the people of 139 host countries. Today, 9,095 volunteers are working with local communities in 75 host countries. Peace Corps volunteers must be U.S. citizens and at least 18 years of age. Peace Corps service is a 27-month commitment. Visit www.peacecorps.gov for more information.
# # #
---