FOR IMMEDIATE RELEASE:
Friday, September 9, 2011
Peace Corps Commemorates 10th Anniversary of 9/11 with Service Projects across the Country
Washington, D.C., Sept. 9, 2011 In commemoration of the 10th Anniversary of September 11th and the
National Day of Service and Remembrance
, Peace Corps Director Aaron S. Williams joined staff members from the Peace Corps Chicago Regional Recruiting Office to prepare food boxes at the Greater Chicago Food Depository in Chicago, Ill.
Peace Corps volunteers and staff worldwide share a commitment to service, helping communities create sustainable solutions and giving back to others, said Director Williams. The Peace Corps community joins Americans across the country to participate in service projects in honor of those who lost their lives on September 11th, 2001.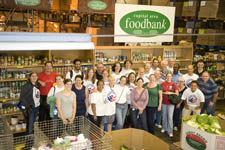 Earlier in the day, Peace Corps Deputy Director Carrie Hessler-Radelet joined Peace Corps staff to sort donations and prepare food boxes for local families at the Capitol Area Food Bank in Washington, D.C.
Through service, we pay tribute to the remarkable way that so many Americans responded with unity, compassion, and generosity ten years ago. Peace Corps volunteers continue that legacy by serving in local communities and promoting peace and friendship around the world, said Deputy Director Hessler-Radelet.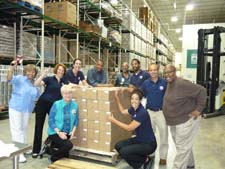 Staff from the regional recruiting offices across the country also participated in local service projects, ranging from feeding families in need, cultivating community gardens, to preserving natural ecosystems at wildlife sanctuaries.
This is the third year that Peace Corps staff has participated in the National Day of Service and Remembrance. President Barack Obama signed into law the Edward M. Kennedy Serve America Act in April 2009, which established September 11 as an annual National Day of Service and Remembrance.
About the Peace Corps:
President John F. Kennedy established the Peace Corps on March 1, 1961, by executive order. Throughout 2011, Peace Corps is commemorating 50 years of promoting peace and friendship around the world. Historically, more than 200,000 Americans have served with the Peace Corps to promote a better understanding between Americans and the people of 139 host countries. Today, 8,655 volunteers are working with local communities in 76 host countries. Peace Corps volunteers must be U.S. citizens and at least 18 years of age. Peace Corps service is a 27-month commitment. Visit www.peacecorps.gov for more information.
# # #
---