FOR IMMEDIATE RELEASE:
Friday, October 9, 2015
Peace Corps Celebrates Volunteers Whose Work Empowers Girls on International Day of the Girl Child
WASHINGTON, D.C., October 9, 2015 – In recognition of the International Day of the Girl Child on Oct. 11, Peace Corps celebrates the work of volunteers who are making a difference in the lives of girls around the world. Since 2011, the United Nations has recognized the International Day of the Girl Child to advance girls' rights and highlight the unique obstacles they face around the world.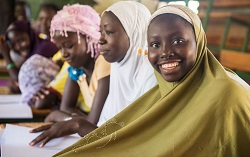 "I'm so proud of the work our volunteers do to open doors for girls to become leaders and innovators in their communities," Peace Corps Director Carrie Hessler-Radelet said today during an International Day of the Girl Child event hosted by George Washington University. "Through initiatives like Camp GLOW, afterschool clubs and now Let Girls Learn, Peace Corps volunteers empower women, men and youth to be confident in themselves and think beyond traditional gender roles."
Launched by the President and First Lady earlier this year, Let Girls Learn is a government-wide collaboration striving to eliminate the barriers 62 million girls worldwide face when trying to receive an education. Since the launch of Let Girls Learn, hundreds of Peace Corps Volunteers have received additional training to make them agents of change for girls' education.
Peace Corps volunteers Sara Frodge and Brenna Shepherd recently worked in their communities in Georgiato address the practice of child marriage, which often has negative effects on girls' health and access to education. To confront the issue, Frodge and Shepherd set out to make a video that explains the advantages of delaying girls' marriage age.
In all, 16 Peace Corps volunteers in 15 different communities in Georgia held discussions and helped film the final video. Community members were able to take ownership of the video and engage in conversations about child marriage in a way that acknowledged community trepidations. Peace Corps staff in Georgia plan to show the completed video and hold a discussion as a part of their International Day of the Girl Child events.
About the Peace Corps: The Peace Corps sends the best and brightest Americans abroad on behalf of the United States to tackle the most pressing needs of people around the world. Volunteers work at the grassroots level to develop sustainable solutions that address challenges in education, health, economic development, agriculture, environment and youth development. Through their service, volunteers gain a unique cultural understanding and a life-long commitment to service that positions them to succeed in today's global economy. Since President John F. Kennedy established the Peace Corps in 1961, nearly 220,000 Americans of all ages have served in 140 countries worldwide. For more information, visit www.peacecorps.gov and follow us on Facebook and Twitter.
# # #
---