FOR IMMEDIATE RELEASE:
Friday, October 16, 2015
Peace Corps Celebrates Volunteers Who Promote Food Security on World Food Day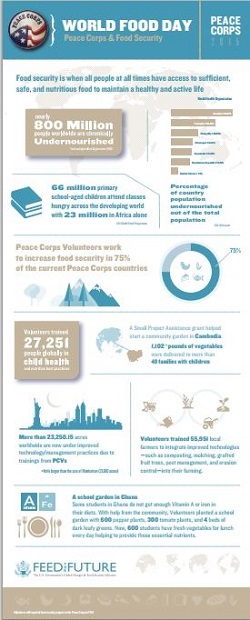 WASHINGTON, D.C. October 16, 2015 – In honor of World Food Day today, the Peace Corps recognizes volunteers who are working with their communities to facilitate reliable, sustainable and nutritious food sources. Established in 1979 and observed in nearly every country, World Food Day raises awareness of the nearly 800 million chronically undernourished people worldwide and promotes solutions to eradicate hunger.
Peace Corps is one of 11 federal departments and agencies contributing to Feed the Future, the U.S. Government's global hunger and food security initiative that establishes a foundation for lasting progress against global hunger. Through a partnership with USAID, more than 3,500 Peace Corps volunteers in 55 countries have helped to bring important food security messaging and practices to the their communities with funds from Feed the Future.
Below, learn how a Peace Corps volunteer in Cambodia is tackling high rates of malnutrition and food insecurity in his community.
Peace Corps volunteer Westen Thomas of Mandan, North Dakota, is planting the seeds of healthy eating through a community garden project and nutrition workshop in Cambodia. Thomas came up with the idea for the garden while working at his community's health center where he noticed that many children were underweight because they lacked access to nutritious food. Since then, he's worked with his community members to harvest and deliver more than 1,100 pounds of vegetables from the garden to 40 local families with children.
"One of the issues I noticed was that many of the families did not have access to healthy foods like fresh vegetables at their homes because they lived too far away from the main market or they simply couldn't afford them," said Thomas, a graduate of North Dakota State University who has been living in Cambodia since 2013.
Thomas then worked with several community leaders to establish the garden and create a two-day workshop to teach local families about the importance of proper nutrition and incorporating healthy foods into their diets. During the workshop, 24 mothers and pregnant women learned about the importance of balanced nutrition, hygiene, breastfeeding and preparing healthy foods.
This project was partially funded by the Small Project Assistance Program (SPA). SPA was established in 1983 between the USAID and the Peace Corps to provide access to small grant funding for community-initiated volunteer projects that build the capacity of men, women, boys and girls in grassroots organizations and communities around the world.
About Peace Corps/Cambodia: There are 91 volunteers in Cambodia working with their communities on projects in education and health. During their service in Cambodia, volunteers learn to speak Khmer. More than 360 Peace Corps volunteers have served in Cambodia since the program was established in 2007.
About the Peace Corps: The Peace Corps sends the best and brightest Americans abroad on behalf of the United States to tackle the most pressing needs of people around the world. Volunteers work at the grassroots level to develop sustainable solutions that address challenges in education, health, economic development, agriculture, environment and youth development. Through their service, volunteers gain a unique cultural understanding and a life-long commitment to service that positions them to succeed in today's global economy. Since President John F. Kennedy established the Peace Corps in 1961, nearly 220,000 Americans of all ages have served in 140 countries worldwide. For more information, visit www.peacecorps.gov and follow us on Facebook and Twitter.
# # #
---