FOR IMMEDIATE RELEASE:
Tuesday, March 24, 2015
Peace Corps Celebrates Volunteers Who Promote Food Security and Economic Growth on National Agriculture Day
WASHINGTON, D.C., March 24, 2015 - In recognition of National Agriculture Day, the Peace Corps celebrates volunteers who share their knowledge of agricultural practices with their local communities to promote economic growth and opportunity. Today, 5 percent of Peace Corps volunteers are focused on agriculture projects.
Agriculture volunteers work with small-scale farmers and families to increase food security, help them adapt to climate change, and conserve their environment. They introduce farmers to techniques that prevent soil erosion, reduce the use of harmful pesticides, and replenish the soil. Alongside local farmers, volunteers work on integrated projects that often combine vegetable gardening, livestock management, agroforestry and nutrition education.
Below read how Peace Corps volunteers' agriculture projects are making a difference around the world.
Ghana
Peace Corps volunteer Dan Mayer of Mendham, New Jersey, is working with his community in Ghana to improve cashew yields for local farmers. As vice president of the Peace Corps Ghana Cashew Initiative, Mayer provides local farmers with extensive training on root grafting techniques, business practices for selling at markets, and proper pruning methods to increase harvests. Mayer has also partnered with a nongovernmental organization to provide discounted mountain bikes to cashew farmers, which helps them travel more easily between their farms and their homes.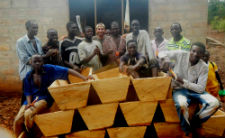 Cashew juice and jam serve as another source of income, and Mayer is helping his community start a cashew apple juice and jam processing center. Working with a local farmers' cooperative, he expects the center will be open for the upcoming cashew harvest season.
"Most Americans aren't aware of the delicious taste of cashew apples, which are a heavily underutilized resource in my region of Ghana," said Mayer, a graduate of Paul Smith's College who has been living and working in Ghana since 2013. "I'm hoping it will catch on as a refreshment in my region."
Ecuador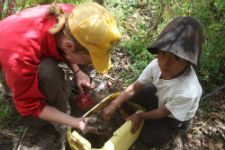 Peace Corps volunteer Devin Yeoman of Adel, Iowa, helped develop seven forests full of fruit-bearing trees in collaboration with his local community in Ecuador, emphasizing biodiversity as a tenet of sustainable agriculture. Devin taught the local farmers how to plant and maintain the trees, which will supply produce to local families and serve as a source of income for farmers at the local market. In total, Yeoman's project consisted of more than 420 permanent and non-permanent trees.
"The sustainability of these forests means that the farmers will be able to manage them well beyond my service," said Yeoman, a graduate of the University of Northern Iowa who completed his service earlier this month.
Nepal
Peace Corps volunteer Benjamin Wagner of Pound Ridge, New York, is empowering women in his community in Nepal by establishing a mushroom collective for female farmers that will help them earn money for their families and add a nutrient-rich supplement to their diets. With assistance from a Peace Corps Small Projects Assistance (SPA) grant, Wagner and a local women's development committee have established six mushroom collectives, provided training for the women, and built two mushroom cultivation houses.
The majority of Wagner's community is comprised of subsistence farmers, and mushrooms – which can be dried – will provide both income and nutrition to the community during the off-season.
"In practice, food security involves agriculture, nutrition, income generation and more — it's so all-encompassing that it seems, at times, overwhelming, but it can really be empowering," said Wager, a graduate of Middlebury College who has been living and working in Nepal since 2013.
About the Peace Corps: The Peace Corps sends the best and brightest Americans abroad on behalf of the United States to tackle the most pressing needs of people around the world. Volunteers work at the grassroots level to develop sustainable solutions that address challenges in education, health, economic development, agriculture, environment and youth development. Through their service, volunteers gain a unique cultural understanding and a life-long commitment to service that positions them to succeed in today's global economy. Since President John F. Kennedy established the Peace Corps in 1961, nearly 220,000 Americans of all ages have served in 140 countries worldwide. For more information, visit www.peacecorps.gov and follow us on Facebook and Twitter.

###
# # #
---