FOR IMMEDIATE RELEASE:
Thursday, June 4, 2015
Peace Corps Celebrates Volunteers Who Promote Environmental Awareness on World Environment Day
WASHINGTON, D.C., June 5, 2015 – In honor of World Environment Day today, the Peace Corps celebrates volunteers across the globe who are helping their communities protect the environment and strengthening their understanding of environmental issues. Celebrated in more than 100 countries worldwide, World Environment Day presents an opportunity to encourage awareness and action in support of the environment. Currently, 12 percent of all Peace Corps volunteers work in the environment sector and an additional 5 percent focus on agriculture.
Below read how a Peace Corps volunteer in Mexico is raising environmental awareness in her community.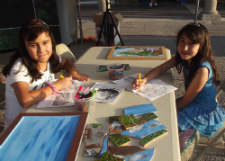 Peace Corps volunteer Cassie Hoffman of Cincinnati, Ohio, is helping to maintain a regular water supply for her Mexican community members and supporting the conservation of a nearby National Park. Working closely with local experts and park staff, Hoffman is teaching her community about the connection between forest cover and regional water availability. She recently organized a ten-day water festival that was attended by nearly 2,000 community members and included an educational fair for students; a photo exhibit highlighting regional water issues; and a park visit that was attended by more than 30 people, many of whom were first-time visitors.
"The idea behind the water festival was to garner public interest in learning about climate change and water supply in the region, and to demonstrate that the park has economic value beyond tourism," said Hoffman, a graduate of Duke University who has been living in Mexico since 2014. "While many of my community members may never have the opportunity to visit the park or may not have much interest in nature, it is important to convey the park's tangible benefits and the importance of park conservation."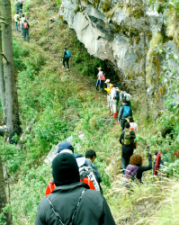 The park's forests capture large amounts of rainfall, which charge the local aquifer and feed nearby streams and tributaries. Yet according to a survey Hoffman and local university students conducted last year, only 6 percent of respondents identified the park as important to their regional water supply.
"The survey results indicated that there was a major disconnect among citizens of the region and knowledge of the critical functions of the park," Hoffman said.
With the support of the survey findings, Hoffman engaged park staff and local organizations to help plan and implement the educational festival and ensure it continues for years to come. A wide-range of activities over the course of ten days allowed Hoffman and her partners to reach as much of the local community as possible.

"Every event was well-attended and lauded by participants," Hoffman said of the festival. "All of our objectives were reached or exceeded, and everyone seemed excited to share the information they learned with others. Additionally, the park staff is now equipped with educational materials and trained to implement similar activities in the future."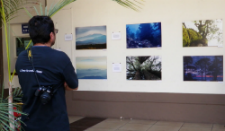 Hoffman's project was partially funded by the Small Project Assistance Program (SPA). SPA was established in 1983 between the U.S. Agency for International Development (USAID) and the Peace Corps to provide access to small grant funding for community-initiated volunteer projects that build the capacity of men, women, boys and girls in grassroots organizations and communities around the world.

About Peace Corps/Mexico: There are 75 volunteers in Mexico working with their communities on projects in community economic development and the environment. During their service in Mexico, volunteers learn to speak Spanish. More than 290 Peace Corps volunteers have served in Mexico since the program was established in 2004.
About the Peace Corps: The Peace Corps sends the best and brightest Americans abroad on behalf of the United States to tackle the most pressing needs of people around the world. Volunteers work at the grassroots level to develop sustainable solutions that address challenges in education, health, economic development, agriculture, environment and youth development. Through their service, volunteers gain a unique cultural understanding and a life-long commitment to service that positions them to succeed in today's global economy. Since President John F. Kennedy established the Peace Corps in 1961, nearly 220,000 Americans of all ages have served in 140 countries worldwide. For more information, visit www.peacecorps.gov and follow us on Facebook and Twitter.

###
# # #
---